Cauliflower Tagine
Holiday 2008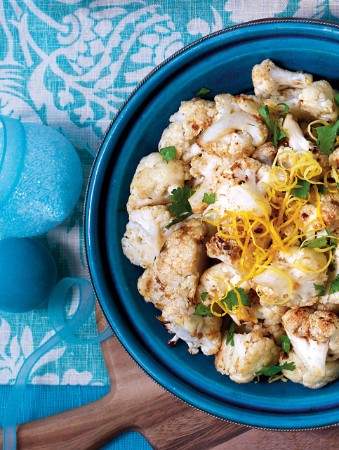 Cauliflower Tagine
Holiday 2008
BY: Lucy Waverman
A Moroccan take on cauliflower that gives it a dynamic taste. Reheat in a 350ºF (180ºC) oven for about 10 minutes. Preserved lemon is a Moroccan specialty in which lemons are preserved in salt. It is available in jars at gourmet shops. Otherwise use grated lemon rind but it does not have the depth of flavour.
2 cauliflowers, cut into small florets, approx. 10 cups (2.5 L)
¼ cup (50 mL) vegetable oil
2 tsp (10 mL) ground ginger
2 tsp (10 mL) ground cumin
1 tbsp (15 mL) lemon juice
2 tbsp (25 mL) chopped preserved lemon
1 tbsp (15 mL) chopped coriander or mint
Salt and freshly ground pepper
1. Preheat oven to 450ºF (230ºC).

2. Toss cauliflower with 2 tbsp (25 mL) oil. Place on a baking sheet and bake for 15 minutes, turning occasionally, or until browned and crisp tender.

3. Heat remaining 2 tbsp (25 mL) oil in a large skillet over high heat. Add ginger and cumin and stir-fry for 30 seconds or until spices are fragrant. Add cauliflower, reduce heat to medium-low and toss together until cauliflower is coated with spices. Stir in lemon juice and preserved lemon. Season with salt and pepper and sprinkle with chopped coriander.
SHARE