Cauliflower Steaks with Sweet Onions
Summer 2013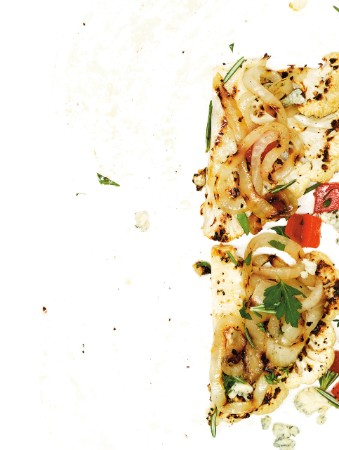 Cauliflower Steaks with Sweet Onions
Summer 2013
BY: Jennifer MacKenzie
A large slice of cauliflower subs for steak while taking on the flavour of the spices and works perfectly with the traditional sweet grilled onions. You can top these with crumbled blue cheese for the decadent steak effect, or with diced roasted red pepper or chopped fresh herbs for a lighter garnish. Some blends of Montreal steak spice are quite salty so be sure to check yours before adding any other seasoning. The best bet is to buy one without any added salt and add your own to taste. If you're making these for entertaining, it's best to buy 2 heads of cauliflower just in case you don't get enough for full steaks.
1 large head cauliflower
1 large sweet onion
3 tbsp (45 mL) olive oil
2 tbsp (30 mL) Montreal steak spice
1 tbsp (15 mL) red wine vinegar
½ tsp (2 mL) Dijon mustard
Salt and freshly ground pepper
1 Preheat barbecue to medium.

2 Trim leaves from cauliflower, being careful to leave the stem and core intact. Place stem-side down on a cutting board and cut vertically in half. From each half, starting at the cut edge, cut two ¾-inch-thick (2‑cm) "steaks." Reserve extra cauliflower for another use. Place slices on a baking sheet (being careful not to break them as you handle them).

3 Cut onion crosswise into ¼-inch-thick (5-mm) rounds. Insert a few toothpicks horizontally into each slice to keep rings together. Place on another baking sheet.

4 Using about half of the oil, lightly brush both sides of onion and cauliflower slices. Sprinkle steak spice on both sides of cauliflower.

5 Whisk together any remaining oil with the vinegar and mustard in a shallow dish and set aside.

6 Using a large spatula to prevent breakage, place cauliflower and onions on grill, close lid and grill, turning once, for 5 to 10 minutes per side or until browned and tender (check the florets of the cauliflower rather than the centre core for doneness), removing them from the grill as they're done. As you remove the onions from the grill, remove toothpicks and add onions to the vinaigrette in the dish.

7 Toss onions to coat with vinaigrette and season to taste with salt and pepper. Serve cauliflower steaks topped with onions.
SHARE