Cauliflower Risotto with Scallops
Autumn 2014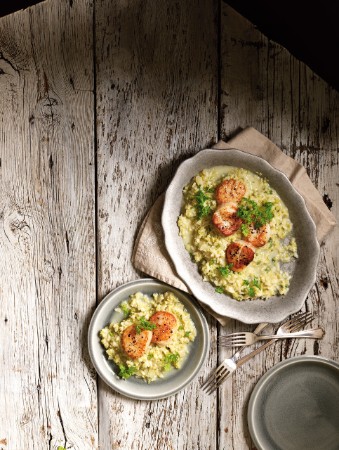 Cauliflower Risotto with Scallops
Autumn 2014
BY: Lucy Waverman
Cauliflower mimics rice in this dish. I used a small amount of rice to give the best texture to the finished dish and then proceeded to cook everything together like a risotto. Serve with one scallop as an appetizer, or increase the number of scallops to 12 and serve 3 for a main course. Without the scallops it is an exceptional side dish with veal or chicken.
RISOTTO
1 small head cauliflower, about 1 lb (500 g)
3 tbsp (45 mL) butter
½ cup (125 mL) finely chopped onion
½ tsp (2 mL) finely chopped garlic
½ cup (125 mL) carnaroli or arborio rice
½ cup (125 mL) white wine
3 cups (750 mL) hot chicken stock
¼ cup (60 mL) grated Italian
Parmesan cheese
2 tbsp (30 mL) chopped chervil
Salt and freshly ground pepper

SCALLOPS
1 tbsp (15 mL) olive oil
4 jumbo scallops
Salt and freshly ground pepper

GARNISH
2 tbsp (30 mL) chervil sprigs
1 Cut cauliflower into florets of about the same size. Place in food processor and pulse until cauliflower is about twice the size of a grain of rice. Measure 3 cups (750 mL) for risotto.

2 Heat 2 tbsp (30 mL) butter in pot over medium heat. Add onion and garlic and sauté for 2 minutes. Add rice and stir to coat with butter for about 1 minute. Pour in wine and simmer until wine is nearly absorbed, about 2 minutes. Add 1 cup stock and cauliflower and simmer until stock and cauliflower juices are nearly absorbed by the rice. Add another cup of stock and cook, stirring until absorbed, about 6 minutes. Add remaining stock and cook until liquid is absorbed and risotto is creamy, adding extra stock if needed. Remove from heat and stir in remaining 1 tbsp (15 mL) butter, cheese and chervil. Season with salt and pepper.

3 Heat olive oil on high heat in a nonstick skillet. Season scallops and fry 2 minutes on one side, turn over, turn off heat and let cook another 3 minutes.

4 Place risotto in soup bowls. Slice scallops in half and place over each serving of risotto.Garnish with chervil.
SHARE