Cauliflower Rice Pilaf
Holiday 2010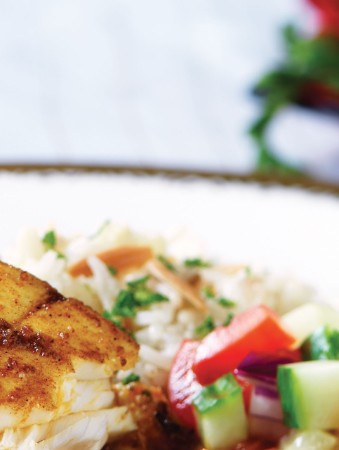 Cauliflower Rice Pilaf
Holiday 2010
BY: Lucy Waverman
Cauliflower and rice is a magical combination and gives both a vegetable and a starch for this menu. To round out the meal, serve chopped tomato, cucumber and red onion spritzed with a little lime juice and salt.
2 tbsp (25 mL) vegetable oil
1 cup (250 mL) chopped onions
3 cups (750 mL) small cauliflower florets
1 tbsp (15 mL) chopped seeded green chili
1 tsp (5 mL) chopped garlic
2 cups (500 mL) basmati rice, rinsed
1 cup (250 mL) coconut milk
11/2 cups (375 mL) water
1/2 tsp (2 mL) whole cloves
1-inch (2.5-cm) piece cinnamon stick
Salt to taste
1/2 cup (125 mL) toasted sliced almonds
3 tbsp (45 mL) chopped mint
1 Heat oil in a pot over medium heat. Add onions and sautée for 2 minutes or until softened.Add cauliflower and cook, stirring occasionally, for 5 minutes or until lightly browned.Stir in chili and garlic and sautée for 1 minute, then add rice and stir until well-coated with oil. Add coconut milk, water, cloves, cinnamon stick and salt and bring to a boil.

2 Cover pot, turn heat to low and cook rice for 15 minutes or until rice is cooked and liquid has been absorbed. Remove from heat and let stand for at least 5 minutes to steam before serving. Remove whole spices if desired. Sprinkle with almonds and mint.


SHARE