Cauliflower Cheese Soup with Savoury Drizzle
Temps des Fêtes 2012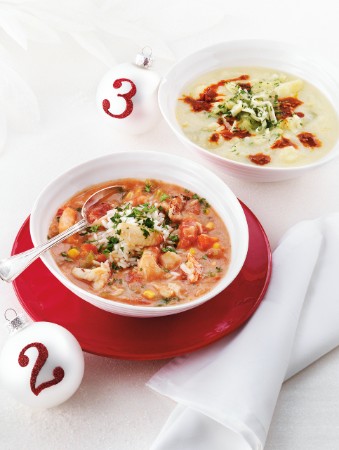 Cauliflower Cheese Soup with Savoury Drizzle
Temps des Fêtes 2012
BY: Marilyn Bentz-Crowley
Cauliflower and potatoes provide creaminess while a lemony drizzle embellishes the flavours. Serve with rye or pumpkin-seeded bread. Havarti can be replaced with other cheese such as Monterey Jack or mild cheddar. Use vegetable broth and the soup becomes vegetarian.
SOUP
¾ to 1 cup (175 to 250 mL) diced onion
1 large stalk celery, diced
6 cups (1.5 L) small cauliflower florets
3 cups (750 mL) peeled and diced potatoes
1 tbsp (15 mL) each of olive oil and butter
1 large clove garlic, minced
1 box (900 mL) chicken broth

GARNISH
2 tbsp (30 mL) olive oil
1 tbsp (15 mL) freshly squeezed lemon juice
1 small clove garlic, minced
1½ tsp (7 mL) paprika, freshly purchased for best colour and flavour
1 cup (250 mL) cold shredded havarti cheese, with caraway seed or plain
2 tbsp (30 mL) finely chopped fresh parsley
1 Cut and measure all vegetables. Heat oil and butter in a large saucepan over medium heat. Add onion, celery and garlic; stir and cook 4 to 5 minutes or until vegetables are partially cooked. Add cauliflower, potatoes and broth. Bring to a boil; cover and reduce heat to low. Simmer 20 minutes or until potatoesare tender.

2 Meanwhile, stir olive oil with juice, garlic and paprika; let stand at room temperature. Toss cold cheese with parsley.

3 Using a slotted spoon, remove about half of the vegetables to a bowl. Purée remaining soup in a blender; return to pan. Add reserved vegetables. (Soup can be covered and refrigeratedfor up to 2 days; then reheat until hot.) Reheat soup over medium heat, stirring often, until very hot. If soup seems too thick, add additional broth or water as needed.

4 Ladle soup into warmed soup bowls. Add a heap of cheese in centre. Briskly stir paprika mixture with a tiny whisk or a fork to emulsify; decoratively drizzle on soup surface.
SHARE