Cast-Iron Pan Yorkshire Pudding
Holiday 2021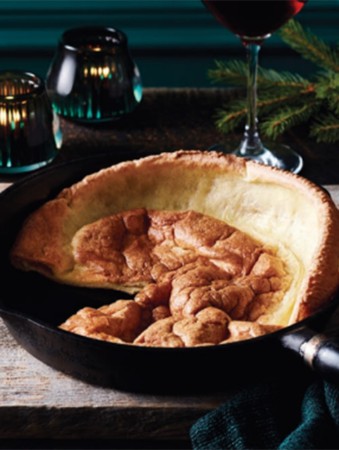 Cast-Iron Pan Yorkshire Pudding
Holiday 2021
BY: Jennifer MacKenzie
Using a cast-iron pan to make one large pudding takes the trickiness out of quickly divvying up the batter into muffin cups and getting the heat you need in the pan for a good puff. The keys to success are to let the batter rest, make sure the oven is up to temp before you bake and be sure the pan and fat are good and hot—but not so hot the smoke detector goes off. Carve your roast, dish up sides and have a board or trivet on the table so everything is ready for you to present your pudding in dramatic fashion as soon as it comes out of the oven.
3 eggs
1 cup (250 mL) milk
1 cup (250 mL) all-purpose flour
1/2 tsp (2 mL) salt
2 tbsp (30 mL) fat from strip loin roast or canola oil
1. Whisk together eggs and milk in a medium bowl until frothy. Whisk in flour and salt until very smooth. Let stand at room temperature for 30 minutes to 1 hour.

2. Preheat oven to 425°F (218°C).

3. Heat a 9 to 10-inch (23 to 25 cm) cast-iron skillet in the oven or on the stovetop over medium-high heat until hot.

4. Add fat to pan and heat for 2 minutes in the oven or on the stovetop until hot but not smoking. Carefully remove from oven, if necessary.

5. Whisk batter to blend and quickly pour into the hot pan. Immediately bake for about 22 minutes or until golden and puffed. Serve immediately.
SHARE