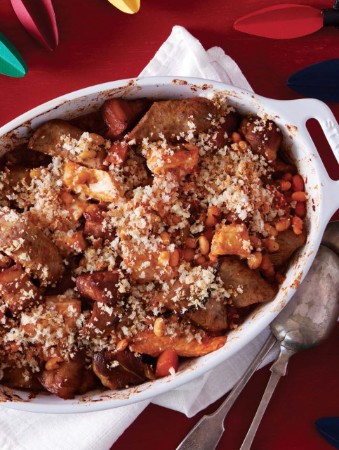 BY: Michelle Rabin
Cassoulet is a luxurious white bean stew traditionally made with pork belly, sausage and duck or goose confit. In this version, turkey leftovers replace duck and take on the rich, meaty flavour of pork belly and sausage. Meltingly tender white beans get baked in a decadent stock and topped with a thick layer of crispy bread crumbs. Nothing about this indulgent dish has that next-day-leftover feeling. You'll be lucky if you get the chance to eat some leftover cassoulet the following day.
2 tbsp (30 mL) olive oil, divided
1 lb (455 g) pork belly, cut into 1 inch (2.5 cm) chunks
2 celery stalks, finely diced
1 onion, finely diced
1 carrot, diced
3 garlic cloves, smashed
3 tbsp (45 mL) tomato paste
1 cup (250 mL) dry navy beans, soaked overnight and drained
2 sprigs thyme
2 sprigs rosemary
Small bunch flat-leaf parsley
4 cups (1 L) chicken or turkey stock
4 pork sausages
1½ cups (375 mL) turkey meat, diced in 1 inch (2.5 cm) chunks
Salt
1 cup (250 mL) bread crumbs
1. Heat 1 tbsp (15 mL) olive oil in a Dutch oven or heavy pot over medium-high. Add in pork belly and cook until golden brown on all sides, about 7 minutes. Remove pork belly and set aside leaving residual fat in bottom of pot.

2. Reduce heat to medium. Add in celery, onion, carrot and garlic and continue to cook until vegetables are browning and fragrant.

3. Add in tomato paste and stir to coat the vegetables. Cook until tomato paste becomes deeper in colour, about 2 minutes. Add in beans and place pork belly back in the pot. Add in the thyme, rosemary and parsley.

4. Pour in stock. Increase heat to high and bring to a boil, then reduce immediately to low. Simmer, covered, until beans are just tender enough to squish between your fingers, about 70 minutes.

5. Preheat oven to 400°F (200°C).

6. Heat remaining olive oil in a nonstick pan over medium heat. Sear sausages in batches until golden brown, about 3 minutes per side. Remove from pan and cut sausages into 2-inch long (5-cm) pieces. Set aside.

7. Stir turkey chunks into the bean mixture then transfer mixture into a large casserole dish for serving. Make sure to pour all the residual liquid into the casserole dish as well. Remove rosemary and thyme sprigs and discard.

8. Adjust seasoning with salt (the pork belly and chicken stock add salt and you may not need any). Nestle sausage pieces into bean mixture. Cover beans and sausage with bread crumbs. Bake in oven until bread crumbs are golden, about 25 minutes. Remove from oven and serve immediately.
SHARE