Cassoulet-Style Baked Beans with Bacon & Garlic
Autumn 2021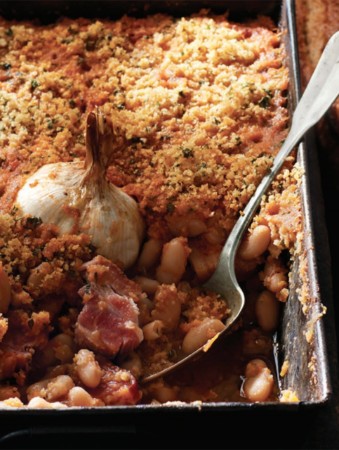 Cassoulet-Style Baked Beans with Bacon & Garlic
Autumn 2021
BY: Eric Vellend
This dish combines the steadying comfort of baked beans with the flavours and crust of cassoulet. Since the bacon and canned beans are well-seasoned, it is vital to use stock with no added salt. You could serve it with a sharply dressed green salad and baguette toasts for spreading the soft garlic.
1 medium onion, peeled and coarsely chopped
1 stalk celery, coarsely chopped
1/2 medium carrot, peeled and coarsely chopped
1 1/2 lbs (680 g) unsliced smoked bacon, rind removed
3 cloves garlic, finely chopped
2 tsp (10 mL) chopped thyme
2 tbsp (30 mL) tomato paste
3 cups (750 mL) unsalted chicken stock
3 cans (each 540 mL) white kidney beans, drained, thoroughly rinsed
Freshly ground pepper to taste
1 head garlic, roots scraped off
1 cup (250 mL) panko bread crumbs
2 tbsp (30 mL) finely chopped flat-leaf parsley
2 tbsp (30 mL) unsalted butter, melted
Pinch salt
1. In a food processor, pulse onion, celery and carrot until finely chopped but not mushy. Set aside.

2. Preheat oven to 375°F (191°C).

3. Cut bacon into 1/2-inch (1-cm) thick slices approximately 3 inches (8 cm) long. Working in batches, cook bacon in a large nonstick frying pan over medium-high heat until nicely browned, 3 to 4 minutes per side. Transfer to a baking sheet.

4. Reduce heat to medium. If there is an excess of fat in the pan, remove enough to leave 2 tbsp (30 mL). Add onion mixture to pan. Cook, stirring, until tender, 12 to 14 minutes. Add garlic cloves and thyme. Cook for 2 minutes. Add tomato paste. Cook for 2 minutes. Transfer to a medium mixing bowl.

5. Return pan to heat and add the stock. Raise heat to high. When it comes to a boil, turn the heat off.

6. Add beans to bowl with onion mixture and pepper. Mix thoroughly. To a 3-inch (8-cm) deep 16-cup (4-L) baking dish, add a single layer of beans. Place garlic head in the middle and arrange bacon around it. Cover bacon with remaining beans. Carefully pour in the hot stock. Cover dish with foil and place on baking sheet. Bake on the middle rack for 1 1/2 hours.

7. Remove foil. Bake for 20 minutes. In a mixing bowl, mix panko, parsley, butter and salt. Sprinkle over beans. Bake until golden brown, another 20 minutes. Let rest 15 minutes before serving.
SHARE