Carrot-Orange Gazpacho Shooters
Hiver 2015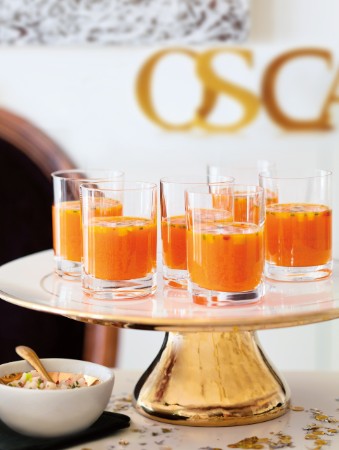 Carrot-Orange Gazpacho Shooters
Hiver 2015
BY: Amy Rosen
The juicing craze has swept through L.A. and onwards into Hollywood North. Serve these chilled sippers as a welcome hit for guests as they arrive.
2 cups (500 mL) fresh, cold carrot juice (available at health food store sand juice bars)
1½ cups (375 mL) freshly squeezed cold orange juice
2 tsp (10 mL) grated fresh ginger
½ cored Granny Smith apple, finely chopped
2 small radishes, finely chopped
1 tbsp (15 mL) snipped chives
1 tsp (5 mL) red wine vinegar
Generous pinches of salt and freshly ground pepper
1 Combine carrot and orange juices and ginger in serving jug. Chill until using.

2 In a medium bowl combine apple, radishes, chives, red wine vinegar and salt and pepper.

3 Pour cold juice into small glasses and top each with a heaped teaspoonful of apple mixture.Serve immediately.
SHARE