Carrot, Feta and Mint Salad
Early Summer 2006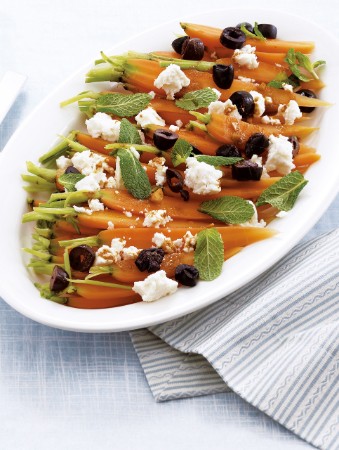 Carrot, Feta and Mint Salad
Early Summer 2006
BY: Bill Granger, Chef, bills
A most refreshing salad that is also excellent as a vegetable side dish served warm.
6 cups (1.5 L) carrots, peeled, halved lengthwise
2 garlic cloves, chopped
3 tbsp (45 mL) lemon juice
3 tbsp (45 mL) extra virgin olive oil
2 tsp (10 mL) ground cumin
2 tsp (10 mL) paprika
1 tsp (5 mL) sea salt
Freshly ground black pepper
1 cup (250 mL) feta cheese, crumbled
Small handful fresh mint leaves
¾ cup (175 mL) black olives, sliced
1. Cut carrots in half. Cook carrots in boiling salted water for 1 minute or until crisp tender. Drain and refresh in iced water. Combine garlic, lemon juice, olive oil, cumin, paprika, salt and pepper.

2. Arrange carrots on a serving platter. Top with crumbled feta, mint and olives and drizzle the dressing overtop.
SHARE