Carpaccio of Vegetables
Summer 2009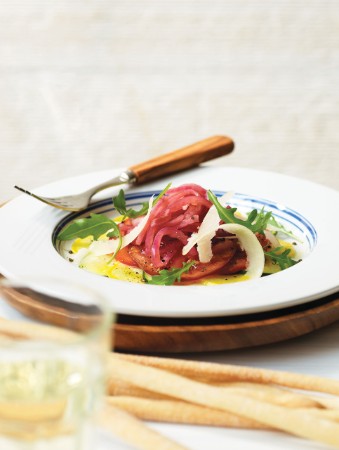 Carpaccio of Vegetables
Summer 2009
BY: Lucy Waverman
Thinly sliced vegetables make a fabulous first course in the summer presented on a plate just like a beef carpaccio. Add a great bread stick and sprinkle with arugula if desired.
Pickled Onions
1⁄2 cup (125 mL) red wine vinegar
2 tbsp (25 mL) sugar
1 large red onion, halved and thinly sliced

1 each yellow and green zucchini
2 heirloom tomatoes, sliced
1 tbsp (15 mL) lemon juice
3 tbsp (45 mL) extra virgin olive oil
Maldon or kosher salt and freshly ground pepper
2 oz (60 g) Parmesan cheese
1. Bring vinegar and sugar to a simmer over medium heat. Place onions in a bowl, season with salt and pepper and pour warm vinegar over them.Leave for at least 2 hours, stirring occasionally. Reserve onions and drain when needed. These will keep for a week refrigerated.

2. Slice zucchini in thin diagonal slices using a sharp knife or mandolin.Place zucchini slices in a circular pattern on 4 individual serving plates. Arrange tomato slices in a circle in centre of plate. Place some pickled onions on top of the tomatoes.

3. Combine lemon juice and olive oil and drizzle over zucchini and tomatoes. Sprinkle with Maldon salt and pepper. Top with shaved Parmesan.
SHARE