Thai Shrimp Curry
Automne 2006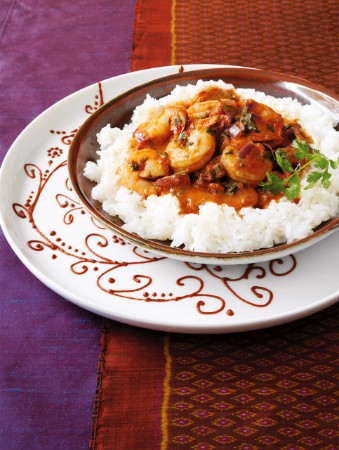 Thai Shrimp Curry
Automne 2006
BY: Lucy Waverman
Thai red curry is a bit milder than the green. Combined with lots of aromatic herbs and shrimps, this curry is fragrant and well balanced with sweetness and heat - a crowd pleaser. If you make the sauce base ahead of time, it will keep refrigerated for a week. If it is too thick to poach the shrimp, add some water to thin it down.
One 400 mL can coconut milk
1 tbsp (15 mL) red curry paste
1 cup (250 mL) chopped red onion
1 cup (250 mL) chopped canned tomatoes
2 tbsp (25 mL) fish sauce
1 tsp (5 mL) grated lime rind
1 tsp (5 mL) sugar
1 lb (500 g) shrimps, shelled
¼ cup (50 mL) fresh basil, chopped
2 tbsp (25 mL) chopped fresh coriander
1 tbsp (15 mL) lime juice
Salt and freshly ground pepper
1. Place coconut milk in a skillet and bring to boil. Boil for 8 to 10 minutes or until thick enough to coat a spoon. Stir in curry paste and continue to simmer until curry paste is fragrant, about 2 minutes. Add onion and simmer for 2 minutes. Add tomatoes, fish sauce, grated lime rind and sugar. Simmer for 15 minutes or until sauce is slightly thickened and fragrant.

2. Stir in shrimps. Simmer shrimps in sauce for 3 to 4 minutes or until pink and curled. Stir in basil, coriander and lime juice. Taste for seasoning, adding salt, pepper or lime juice as needed. Serve on a shallow platter with rice.
SHARE