Lamb Curry with Ginger Bitters
Printemps 2014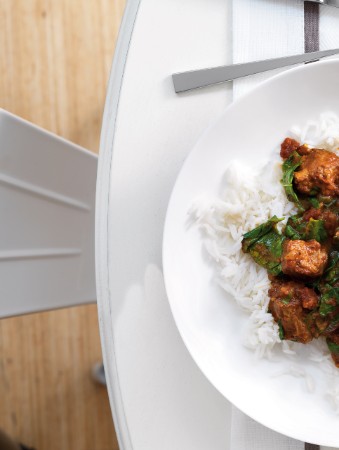 Lamb Curry with Ginger Bitters
Printemps 2014
BY: Lucy Waverman
The ginger bitters in this dish transform the curry from good to perfect. It cuts the fattiness of the lamb and enriches the sauce. Serve with steamed rice and Spiced Yogurt (recipe follows). I use a spice grinder to grind the spices but an old coffee grinder works beautifully.
1 tbsp (15 mL) cumin seeds
1 tbsp (15 mL) coriander seeds
10 peppercorns
1 cinnamon stick, ¾ inches (2 cm) long
3 cloves
1 star anise
1 tsp (5 mL) whole cardamom seeds, removed from pods
½ tsp (2 mL) cayenne pepper
2 tbsp (30 mL) vegetable oil
2 lbs (1 kg) stewing lamb, preferably from the shoulder, cut into 1 inch (2.5 cm) cubes
Salt and pepper to taste
2 cups (500 mL) chopped onions
1 tbsp (15 mL) chopped ginger
1 tbsp (15 mL) chopped garlic
1 tbsp (15 mL) ginger bitters
1 cup (250 mL) stock or water
1 cup (250 mL) chopped canned tomatoes
½ cup (125 mL) coconut milk
½ tsp (2 mL) turmeric

TO FINISH
6 cups (1.5 L) baby spinach
1 tsp (5 mL) spice mixture
2 tsp (10 mL) ginger bitters
1 Preheat oven to 325°F (160°C).

2 Sauté cumin seeds with coriander seeds, peppercorns, cinnamon, cloves, star anise, cardamom and cayenne in a small frying pan over low heat for 2 to 3 minutes or until the spices are fragrant. Cool and grind. Reserve.

3 Heat oil in a large sauté pan over high heat. Season lamb with salt and pepper. Working in batches, add lamb, being sure not to crowd the pan, and brown each side for 2 minutes or until dark golden. Remove to a platter and reserve.

4 Return same pan to medium-low heat. Depending on the cut of lamb, you may need to add more oil to the pan. Add the onions and cook, stirring until softened and golden, about 6 to 8 minutes. Add ginger and garlic and cook together for another 5 minutes or until vegetables are brown and very tender. Add all but 1 tsp (5 mL) ground spice mixture and continue to cook until you can smell the spices and the vegetables are coated, about 2 minutes.

5 Stir in lamb and ginger bitters then add stock and tomatoes. Bring to a boil, cover and simmer for 20 minutes on top of the stove.
6 Add the coconut milk and turmeric. Cover and bake in the oven for 50 to 60 minutes or until lamb is very tender. Stir in spinach and remaining 1 tsp (5 mL) spices. Return to oven and cook for 5 to 10 more minutes, or until spinach is wilted and lamb is fork tender. Remove from oven and stir in bitters.

SPICED YOGURT

This is a cooling condiment to eat with the lamb. It is also known as raitha.

1 cup (250 mL) grated English cucumber, unpeeled
1 cup (250 mL) plain yogurt
1 tsp (5 mL) ground cumin
2 tbsp (30 mL) chopped fresh coriander or parsley
Salt and freshly ground pepper to taste
1 Stir cucumber with the yogurt, cumin, coriander, salt and pepper. Chill until serving time.
SHARE