Caramelized Vichyssoise with Gremolata Toasts
Autumn 2012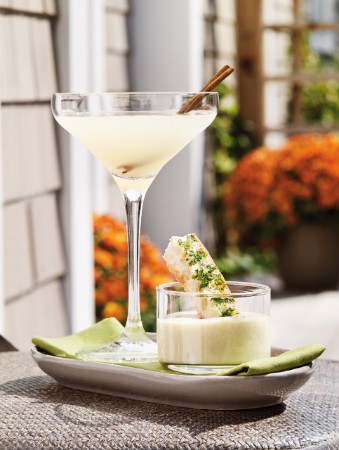 Caramelized Vichyssoise with Gremolata Toasts
Autumn 2012
BY: Victoria Walsh
The key to this fall soup is to purée it until it's very smooth. The best part? It's best served cold! So you can get ahead by assembling the soup and toasts before guests arrive. Soup will keep well, covered and refrigerated, for up to 3 days.
SOUP
1 tbsp (15 mL) butter
1 tbsp (15 mL) olive oil
3 leeks, thinly sliced
1 medium potato
2 cups (500 mL) chicken broth
½ cup (125 mL) whipping cream
Generous pinches of freshly ground cinnamon, freshly ground nutmeg, salt and freshly ground black pepper

GREMOLATA TOASTS
1 plain or multi-grain demi-baguette
¼ cup (60 mL) finely chopped fresh parsley
Zest of 1 orange or lemon
2 tsp (10 mL) olive oil
1 Melt butter in a medium saucepan over medium-low heat. Add oil. When bubbling, add leeks. Cook, stirring often until softened and caramelized, 15 to 25 minutes. Stir more frequently towards the end of leeks caramelizing. If browning too quickly, reduce heat. Meanwhile, peel and chop potato. When leeks are caramelized, add potato and broth. Bring to a boil. Simmer for 10 to 15 minutes or until potato is tender. Remove from heat and let cool slightly.

2 Preheat oven to 400°F (200°C).

3 For toasts, thinly slice bread into 12 fingersized batons. Place on a baking sheet. Bake in centre of preheated oven for 5 minutes or until lightly golden. In a small bowl, stir parsley with 4 tsp (20 mL) finely chopped zest of orange. Stir in olive oil until evenly mixed.

4 When soup is cool enough, whirl in a food processor until smooth. Add cream, cinnamon, nutmeg, salt and pepper. Whirl until very smooth. If soup is very thick, add more chicken broth and whirl to mix. Serve cold or before serving, gently reheat until warm. Ladle into 12 small bowls. Spread gremolata mixture over each toast. Position each toast over rim of each bowl.
Makes 12 appetizer servings
SHARE