Caramelized Onion Phyllo Tarts
Summer 2009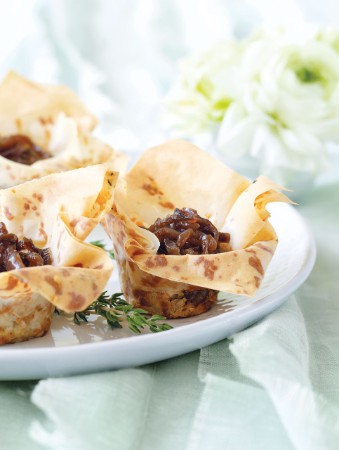 Caramelized Onion Phyllo Tarts
Summer 2009
BY: Julia Aitken
These rich, appetizer-size tarts make elegant canapés or, when served alongside a green salad, a pretty summer sit-down appetizer for four or six people. Refrigerating the tarts makes the pastry soggy, so store them at room temperature and serve within a couple of hours of baking.Use a mini-muffin pan with cups that hold 2 to 3 tbsp (25 to 45 mL).
Filling
1 tbsp (15 mL) butter
1 tbsp (15 mL) olive oil
2 large red onions, thinly sliced
1 tsp (5 mL) granulated sugar
1⁄2 tsp (2 mL) salt
1 tsp (5 mL) balsamic vinegar
Freshly ground black pepper
2 eggs
1⁄4 cup (50 mL) whipping cream

Phyllo Tart Shells
2 tbsp (25 mL) butter
2 tbsp (25 mL) finely grated Parmesan cheese
1⁄2 tsp (2 mL) dried thyme
1⁄4 tsp (1 mL) freshly ground black pepper
2 sheets (each 13 x 13 inches/33 x 33 cm) frozen phyllo pastry,thawed
1. For filling, heat butter and oil in a large skillet over medium-high heat.Add onions, sugar and salt; cook, stirring, for 3 to 5 minutes until onions start to release some of their moisture.

2. Reduce heat to medium; cook, stirring occasionally, for about 40 minutes until onions are very tender, browned and sticky. Remove skillet from heat; stir in balsamic vinegar. Taste and add pepper and more salt if necessary. Let cool completely.

3. With a fork, beat eggs and cream into onions until well combined; set aside.

4. For phyllo tart shells, clarify butter by melting it in a small saucepan over medium-low heat. Carefully skim off any scum, then pour butter into a small bowl, leaving any milky residue behind in sauce pan.

5. Preheat the oven to 350°F (180°C).

6. In a separate small bowl, stir together Parmesan cheese, thyme and pepper.

7. Lay 1 sheet of phyllo on work surface; brush with half the clarified butter.Sprinkle evenly with Parmesan mixture. Lay second sheet of phyllo over first; brush with remaining butter.Cut stacked phyllo into 12 even-size rectangles.

8. Carefully fit 1 phyllo rectangle into each of 12 cups of a lightly buttered mini-muffin pan. Spoon onion filling into phyllo tart shells, filling each generously.Bake for 16 to 18 minutes, until pastry is golden and crisp and filling is bubbly. Let tarts cool in pan for 5 minutes; remove tarts and serve warm or at room temperature.
SHARE