Caramelized Leek and Mushroom Soup with Crisp Cheese Croutons
Temps des Fêtes 2006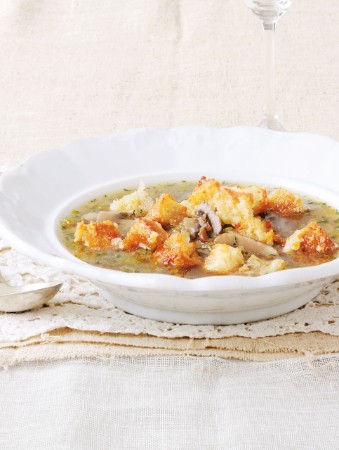 Caramelized Leek and Mushroom Soup with Crisp Cheese Croutons
Temps des Fêtes 2006
BY: Jennifer MacKenzie
A light soup rich in flavour and topped with crunchy, cheesy croutons is a lovely start to a festive meal. If you would like a deeper mushroom flavour, use cremini or other exotic mushrooms. The flavours benefit from being made ahead, so make the soup a day or two ahead and reheat before serving, which also makes for easy entertaining. Be sure to make the croutons just before you serve the soup, for the crispiest texture. The aroma as they toast in the oven will tantalize everyone's taste buds. A hard cheese that can be very finely grated is best for the croutons. Try Parmesan, Romano, Manchego, Asiago or very well-aged Gouda or cheddar (at least 5 years old). Use the finest grater you have to shred the cheese, a fine rasp-type, a rotary cheese grater or the fine side of a box grater.
2 tbsp (25 mL) butter
3 leeks, white and light green parts only, finely sliced
1 tsp (5 mL) packed brown sugar
4 cups (1 L) sliced mushrooms
1 tbsp (15 mL) chopped fresh thyme
Salt and freshly ground black pepper
2 tbsp (25 mL) brandy, Cognac or sherry
6 cups (1.5 L) chicken or vegetable stock (preferably low sodium)


Croutons
¼ baguette, cut into ½-inch (1-cm) cubes, about 2 cups (500 mL)
2 tbsp (25 mL) butter, melted
½ cup (125 mL) finely shredded sharp, hard cheese
1. Melt butter over medium heat in a large pot. Cook leeks and sugar, stirring, for 2 minutes. Reduce heat to low and cook, stirring often, for about 30 minutes or until starting to caramelize. Increase heat to medium-high and stir in mushrooms, thyme, and ¼ tsp (1 mL) each salt and pepper. Cook, stirring often, for about 10 minutes or until mushrooms release their liquid and start to brown.

2. Stir in brandy and cook, stirring, until evaporated. Stir in stock and bring to boil, scraping up brown bits stuck to pot. Simmer for about 20 minutes or until flavours are blended. (Soup can be cooled, covered and refrigerated for up to 2 days. Reheat to steaming before serving.)

3. Just before serving, make the croutons. Preheat oven to 450ºF (230ºC).

4. In a bowl, drizzle bread cubes with melted butter and toss to coat. Sprinkle with cheese and toss to evenly coat, pressing to adhere cheese if necessary. Spread out in a single layer on a baking sheet. Bake for about 8 minutes or until deep golden and crispy (watch closely that they don't burn). Remove from baking sheet immediately using a spatula and transfer to a bowl.

5. Season soup with salt and pepper to taste. Ladle into warmed bowls and serve topped with hot croutons.
SHARE