Caramelized Brussels Sprouts with Prosciutto Crisps
Holiday 2010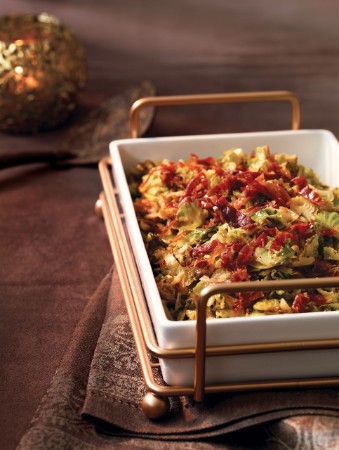 Caramelized Brussels Sprouts with Prosciutto Crisps
Holiday 2010
BY: Lucy Waverman
This recipe gives a whole new dimension to Brussels sprouts. Confirmed non-lovers will enjoy the caramelized flavour topped with crispy prosciutto.
1/4 cup (50 mL) butter
1 lb (500 g) Brussels sprouts, root removed and thinly sliced
2 tbsp (25 mL) sugar
1/4 cup (50 mL) lemon juice
Salt and freshly ground pepper
1 tbsp (15 mL) olive oil
2 slices prosciutto, slivered
1 Heat butter in a sauté pan over medium low heat. Add sprouts and sauté for 1 minute or until coated with butter. Turn heat to low and cook another 5 minutes, tossing occasionally, or until soft. Sprinkle in sugar and lemon juice, turn heat to medium-low and continue to cook another 8 to 10 minutes or until sprouts are nicely caramelized. Season with salt and pepper to taste.

2 While sprouts are cooking, heat olive oil in a separate skillet over medium-high heat. Sprinkle in prosciutto and sauté for 1 to 2 minutes or until crisp. Set aside. Remove prosciutto from pan, drain on a paper towel, then sprinkle over sprouts.


SHARE