Caramelized "Bananas Foster" Tartlets
Autumn 2015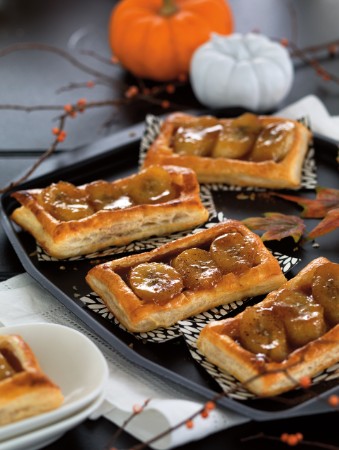 Caramelized "Bananas Foster" Tartlets
Autumn 2015
BY: Eshun Mott
Here are all the flavours of the classic Southern dessert dressed up in easy-to-serve tartlets. Make the tartlet shells ahead of time, and then fill them with bananas and caramel just before serving. Serve with a dollop of lightly sweetened whipped cream and a sprinkle of cinnamon if desired.
1 sheet (225 g) butter puff pastry
1 egg yolk
1 tbsp (15 mL) cream
⅓ cup (80 mL) unsalted butter, cut into pieces
½ cup (125 mL) dark brown sugar, packed
3 tbsp (45 mL) dark rum, divided
½ tsp (2 mL) freshly grated nutmeg
¼ tsp (1 mL) cinnamon
¼ tsp (1 mL) salt
3 to 4 small firm bananas, cut slightly on the bias into ½ inch thick (1 cm) slices
1 tsp (5 mL) lemon juice
1 Preheat oven to 425°F (220°C).

2 Use a ruler to cut pastry into 8 equal rectangles. Transfer pastry to a parchment-lined baking sheet and use a sharp-tipped knife to score a border line about ½ inch (1 cm) around the edges. Use a fork to prick the pastry all over inside scored edges. Beat egg yolk and cream together and brush on pastry edges. Bake for 12 minutes in the bottom third of the oven or until pastry is browned and crisp. Use a fork or your fingers to press down and flatten any pastry that has risen up in the middle of the tart shells. Set aside.

3 Combine butter, brown sugar, 1 tbsp (15 mL) rum, nutmeg, cinnamon and salt in a large skillet over low heat, and stir until butter is melted and sugar has dissolved. Bring to a simmer, add half of bananas cut-side down and cook for 2 to 3 minutes, spooning sauce over bananas or until they are tender. Use a slotted spoon to remove cooked bananas to a plate and repeat with remaining bananas. Place cooked bananas in tart shell (cut-side up). Return skillet to medium heat. Add remaining 2 tbsp (30 mL) rum and lemon juice and stir to combine. Simmer for 2 minutes longer or until sauce is syrupy. Spoon about ½ tbsp (7 mL) of caramel around bananas in tart shell to fill in any gaps, and serve warm.
SHARE