Cameroon Spiced Shrimp with Peanut Sauce
Summer 2014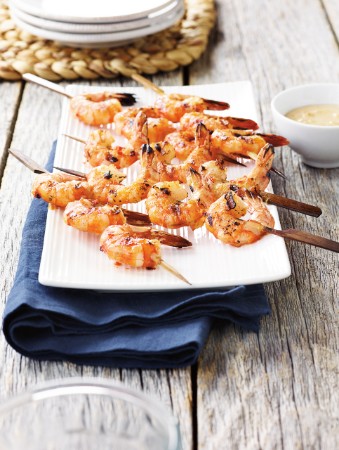 Cameroon Spiced Shrimp with Peanut Sauce
Summer 2014
BY: Marilyn Bentz-Crowley
Cameroon's very name is derived from the Portuguese word for shrimp, camarões. West African cuisine frequently includes hot peppers and peanuts. Do consult a hot pepper comparison chart if substituting hot peppers, as the jalapeños in this recipe are among the mildest. The shrimp number indicates how many are found in a pound—the larger the number, the smaller the shrimp.
SHRIMP
3½ to 4 lbs (1.75 to 2 kg) raw, shell-on shrimp, preferably a larger size such as 10/12 or 16/20
2 lemons
4 to 6 fresh hot peppers such as green or red‑ripejalapeños, each about 3 inches (8 cm) long
3 to 4 large garlic cloves, minced
½ tsp (2 mL) salt
2 to 4 tbsp (30 to 60 mL) peanut or other vegetable oil
10 to 12 bamboo skewers, each about 12 inches
(30 cm) long and soaked in warm water

PEANUT SAUCE
1 cup (250 mL) chunky or smooth natural, unsalted peanut butter
¾ to 1 cup (175 to 250 mL) water
1 large garlic clove, minced
1 tsp (5 mL) granulated sugar
½ tsp (2 mL) salt
1 Defrost (if not using fresh) and peel shrimp, leaving tail on. Devein if needed. Place in a large bowl; chill while proceeding. Zest lemons; place zest in a small bowl. Squeeze lemon juice; set aside for peanut sauce. Seed and finely dice peppers (see TIP) to use in both shrimp and peanut sauce.

2 Add 2 tbsp (30 mL) diced pepper, garlic and salt to lemon zest; stir to combine. Then drizzle cold shrimp with 2 tbsp (30 mL) oil. Toss shrimp to coat, using more oil if needed (smaller shrimp need more oil). Then add lemon zest mixture; toss shrimp until evenly coated.

3 Thread several shrimp onto skewers by first threading through tail and then thick part of each shrimp forming a "C" shape. Cover and let marinate for 30 minutes to several hours, always in the refrigerator.

4 To make peanut sauce, stir peanut butter with lesser amount of water. Then stir in garlic plus 2 tbsp (30 mL) of remaining hot peppers, 1/4 cup (60 mL) of reserved lemon juice, sugar and salt. Let sit at room temperature for a half hour or up to 2 hours. Then taste; stir in additional lemon juice and hot peppers as needed. Taste again; add more salt or sugar if required. Thin with a tbsp (15 mL) or more of additional water if too thick. If making ahead, cover and refrigerate.

5 Heat barbecue on high until very hot. Grill shrimp until just cooked through, about 2 minutes a side. Place on a warmed serving plate. Serve right away with peanut sauce—and pass a bottle of hot sauce for chili heads.

TIP Seeding and dicing hot peppers leaves hot capsaicin residue on hands. To remove easily, pour a little cooking oil on hands; rub hands as if the oil were soap. Then wash hands thoroughly with normal hand soap or a few drops of dish-washing liquid detergent.
SHARE