Cabbage and Chestnut Soup
Winter 2007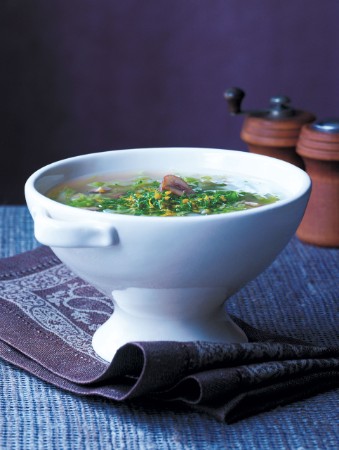 Cabbage and Chestnut Soup
Winter 2007
BY: Jennifer McLagan
Peeled and cooked chestnuts are now available vacuum-packed, which makes this simple soup quick to prepare
2 tbsp (25 mL) unsalted butter
1 onion, peeled and diced
1 garlic clove, finely chopped
1 tsp (5 mL) fennel seeds
4 cups (1 L) shredded cabbage
6 cups (1.5 L) chicken stock
1 orange
20 cooked chestnuts
Kosher salt and freshly ground pepper
2 tbsp (25 mL) chopped parsley
1. Melt the butter in a large saucepan over medium heat. Add the onion and cook gently until it softens. Add the garlic and fennel seeds and cook for another minute. Stir in the cabbage and cook, stirring until the cabbage wilts.

2. Pour in the stock and bring to a boil. Using a vegetable peeler, remove a long strip of peel from the orange, set 3 chestnuts aside and dice the remaining. When the stock boils reduce the heat so the soup simmers. Add the piece of peel and diced chestnuts, season with salt and pepper and simmer for 10 minutes or until the cabbage is cooked. Grate the remaining peel from the orange and mix with the parsley.

3. Remove the strip of orange peel, check the seasoning, then ladle the soup into warm bowls. Top with parsley mixture from the orange and a chestnut half.
SHARE