Cabbage Salad with Hot Bacon Dressing
Hiver 2007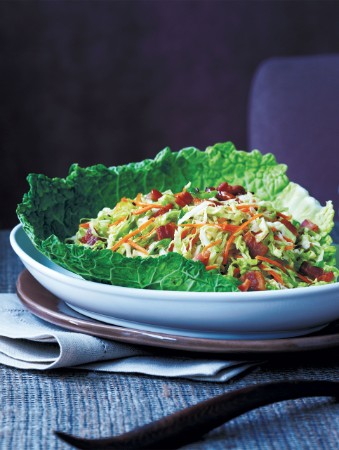 Cabbage Salad with Hot Bacon Dressing
Hiver 2007
BY: Jennifer McLagan
In winter, salad greens are expensive and look tired from their voyage. This salad provides a refreshing change. Savoy is my favourite but napa cabbage would work too.
½ Savoy cabbage, finely shredded about 6 cups (1.5 L)
1 carrot, peeled and finely shredded
2 green onions, sliced
1 tsp (5 mL) toasted cumin seed
2 tbsp (25 mL) seasoned rice vinegar
1 tsp (5 mL) sugar
Salt and freshly ground pepper
2 tbsp (25 mL) vegetable oil
½-inch-thick (1-cm) slice side bacon, diced
1. Mix the cabbage, carrot, green onions and cumin seed in a large bowl. Mix the rice vinegar and sugar and season with 1 tsp (5 mL) salt and pepper. Pour over the cabbage and toss together. Let sit at least 30 minutes or up to 2 hours.

2. Heat the oil in a frying pan over medium heat, add the bacon and lower heat. Cook for 15 minutes over medium-low heat until the bacon has rendered its fat and is crispy.

3. Pour the bacon and oil from the pan-there should be about ¼ cup (50 mL) - over marinated cabbage, toss, check the seasoning and serve.
SHARE