Slow-Roasted Rib of Beef with Sherried Mushroom Ragout
Winter 2011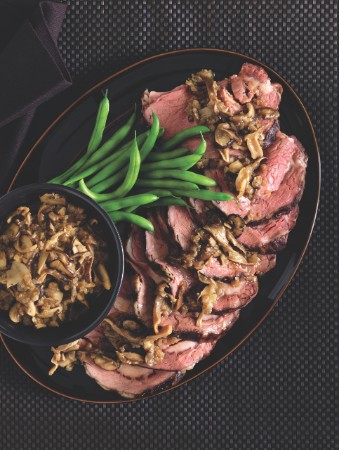 Slow-Roasted Rib of Beef with Sherried Mushroom Ragout
Winter 2011
BY: Tonia Wilson-Vuksanovic
If ordering the beef from a butcher, ask to have the cap of fat sliced off and reserved, then have the beef weighed without the fat. After weighing, the butcher can then package the roast with the fat, which can be placed back on top of the meat before roasting. There is no point paying a premium price for fat, it is usually given at no charge.
5 to 6 lbs (2.2 to 2.7 kg) prime rib of beef with 3 bones
2 tbsp (25 mL) olive oil
Salt and coarsely ground black pepper
2 tbsp (25 mL) unsalted butter
2 cups (500 mL) shallots, finely chopped
8 cups (2 L) mixed mushrooms, sliced (use a mixture of cremini, shiitake, oyster and/or Portobello)
1 tbsp (15 mL) fresh thyme, finely chopped
1 tbsp (15 mL) flour
1 cup (250 mL) dry sherry (medium-dry is also fine)
1 cup (250 mL) beef stock
2 tbsp (25 mL) 35% cream (optional)
1 Preheat oven to 400°F (200°C).

2 Remove meat from refrigerator and allow meat to come close to room temperature, about 30 minutes. Place beef in a roasting pan and rub entire piece with olive oil, season very generously with salt and pepper. Replace fat cap if it was removed.

3 Place pan in oven and roast for 20 minutes, reduce oven heat to 200°F (100°C) and continue roasting, uncovered until a meat thermometer registers 135°F (57°C) at the centre of the roast. This should take about 2¾ to 3 hours, rendering the meat perfectly pink and fully cooked through.

4 Let rest, covered with tin foil, for at least 30 minutes. To serve, first slice off the bones by running a sharp knife closely alongside the bones, in between the bones and the roast. There will then be a whole roast to easily slice in thick or thin pieces as desired. Bones can be sliced and divided.

5 While beef is roasting melt butter over medium heat in a medium saucepan. Sauté shallots until tender, about 8 minutes. Add mushrooms and thyme and sauté over high heat until the mushrooms have released all their liquid and are starting to brown, about 8 minutes. Stir flour into mushroom mixture until well- combined. Add sherry, cook for 2 minutes.

6 Add beef stock and simmer until reduced to sauce consistency, about 10 minutes. Stir in cream if using and season with salt and pepper. Serve warm with beef slices.


SHARE