Seared Veal Chops with Bourbon Cream Sauce
Autumn 2010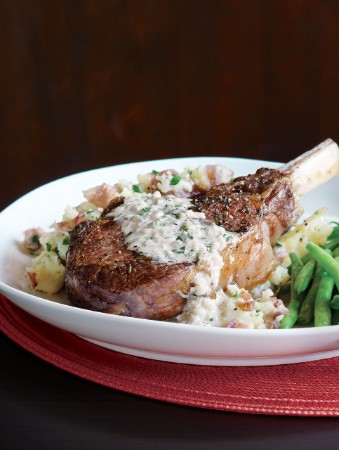 Seared Veal Chops with Bourbon Cream Sauce
Autumn 2010
BY: Nicole Young
In Ontario, we are fortunate enough to have access to some of the best veal in the world. Get nice, thick chops, about 1 to 1½ inches (2.5 to 4 cm) thick, for a dramatic presentation. The bourbon mixes beautifully with the cream and the subtle veal flavour.
4 veal rib chops, each 8 oz (250 g),
about 1 inch (2.5 cm) thick
¼ cup (50 mL) olive oil, divided
2 tsp (10 mL) minced fresh rosemary, divided
1 tsp (5 mL) fresh thyme, divided
½ tsp (2 mL) coarse salt
½ tsp (2 mL) fresh cracked pepper
½ cup (125 mL) minced shallots
1 garlic clove, thinly sliced
¼ cup (50 mL) bourbon
¼ cup (50 mL) chicken broth
½ cup (125 mL) heavy cream
1 tsp (5 mL) chopped fresh rosemary
1. Preheat oven to 375°F (190°C).

2. Arrange chops in single layer in large baking dish. Drizzle with 2 tbsp (25 mL) of the olive oil. Sprinkle with rosemary, thyme, salt and pepper. Rub oil and seasonings into chops. (Can be prepared 1 day ahead. Cover with plastic wrap and chill. Let stand at room temperature 1 hour before continuing.)

3. In a large, heavy, ovenproof skillet, heat remaining oil over medium-high heat. Add chops; cook until chops are dark brown and seared, about 2 minutes per side. Transfer pan to oven and bake until a meat thermometer registers 130°F (55°C), about 10 to 15 minutes (will depend on thickness of the chops). Transfer chops to plate and let rest, without cutting into them, for 10 minutes.

4. In same pan, add shallots and cook over medium-high heat until softened, about 3 minutes. Add garlic and cook 1 minute. Add bourbon to skillet and cook until reduced to about 2 tsp (10 mL), scraping up any browned bits, about 1 minute. Add chicken broth and any accumulated veal juices; cook until reduced to about 2 tbsp (25 mL), about 1 minute. Stir in cream and rosemary and cook just until sauce is slightly thickened. Serve immediately with chops.
SHARE