Buttered Roots & Sprouts
Temps des Fêtes 2016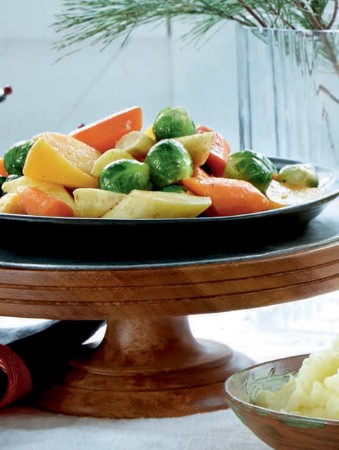 Buttered Roots & Sprouts
Temps des Fêtes 2016
BY: Jennifer MacKenzie
A colourful side dish with a variety of vegetables all done in one pan means less juggling on the stove than if you were making separate side dishes, and this one features all of the holiday favourites. You can peel, trim and cut the vegetables several hours ahead; just cover with a damp cloth, then plastic-wrap and keep in the refrigerator until you're ready to cook.
4 large carrots, about 1½ lbs (750 g)
4 to 5 parsnips, about 1 lb (500 g)
6 medium white turnips or ½ of a small rutabaga, about 1¼ lbs (625 g)
¼ cup (60 mL) butter
Salt and pepper
2 cloves garlic, minced
2 tsp (10 mL) Dijon mustard
1 cup (250 mL) water
24 small Brussels sprouts, about 1 lb (500 g), trimmed
2 tbsp (30 mL) fresh lemon juice
1 Peel carrots and parsnips and cut on the diagonal into chunks about 1½ inches (4 cm) long; cut thick ends in half lengthwise. Peel turnips and cut each into 4 to 6 wedges, about 1 inch (2.5 cm) thick. If using rutabaga, cut into triangles or sticks about 1 inch (2.5 cm) thick.

2 In a large, deep skillet or a wide pot, melt half of the butter over medium-high heat. Sauté carrots, turnips and ½ tsp (2 mL) each of salt and pepper for 5 minutes. Add garlic and sauté for 1 minute or until fragrant.

3 Whisk mustard into water in separate bowl, then pour into skillet. Immediately cover pan, reduce heat to medium-low and boil gently for 10 minutes. Stir in parsnips, cover and boil gently for 10 minutes longer. Stir in Brussels sprouts, cover and boil for about 5 minutes or until carrots, turnips and parsnips are tender and Brussels sprouts are crisp-tender.

4 Uncover pan, stir in remaining butter and lemon juice. Increase heat to medium and cook, uncovered and stirring occasionally, for about 5 minutes or until vegetables are glazed and sprouts are just tender. Season with salt and pepper.
SHARE