Halibut and Avocado Burritos
Spring 2008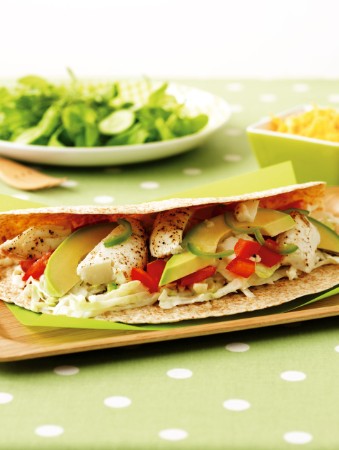 Halibut and Avocado Burritos
Spring 2008
BY: Marilyn Bentz-Crowley
From Baja California (where the dish originated) to British Columbia, West Coast restaurants offer fish sandwiches made with flour (burrito) or corn (taco) tortillas. This is healthy fast food for travellers and worth sampling over and over again as every unique version seems to be scrumptious. Our recipe is equally delectable - and easily multiplied to please a large gathering of all ages, as halibut is among the mildest of fish.
Burrito
¼ cup (50 mL) sour cream
¼ cup (50 mL) mayonnaise
½ tsp (2 mL)  toasted cumin seed, coarsely ground
⅛ tsp (0.5 mL) salt
1 tbsp (15 mL) freshly squeezed lime juice
4 cups (1 L) very finely shredded green cabbage
1¼ to 1½ lb (625 to 750 g) halibut fillets
1 tbsp (15 mL) peanut or canola oil
Salt and freshly ground pepper
4 large flour tortillas about 10-inches (25-cm) in diameter
1 ripe but firm avocado, sliced

Extras (To Taste)
1½ cups (375 mL) shredded Monterey Jack or other mild cheese
2 large Roma tomatoes, seeded and diced
4 green onions, thinly sliced
1 to 2 large jalapeño pepper, seeded and very thinly sliced
¼ cup (50 mL) chopped fresh coriander
1. Stir sour cream with mayonnaise; mix in cumin, salt and lime juice. Add cabbage; toss until shreds are coated with dressing. Set aside, or cover and refrigerate for up to 2 days.

2. When ready to serve, preheat broiler or grill. Drizzle fish with oil; rub over both sides. Lightly season with salt and pepper. Broil or grill for 3 to 4 minutes per side or until fish flakes easily with a fork.

3. Meanwhile warm flour tortillas in a toaster oven or in a large dry skillet over medium heat. Lay on warmed serving plates. Cut fish into long pieces; arrange in centre of tortillas. Top with avocado slices and a generous amount of coleslaw. Serve immediately with extras for each person to add to taste before rolling into a burrito.
SHARE