Bubby's Latkes
Holiday 2006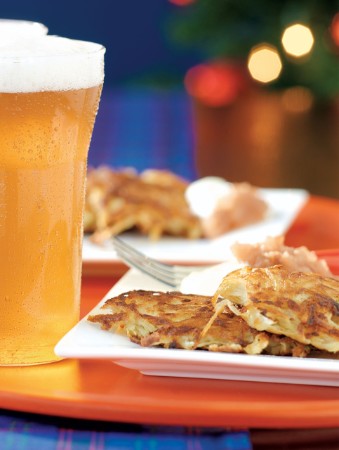 Bubby's Latkes
Holiday 2006
BY: Sasha Chapman
A latke party is necessarily casual because potato pancakes will wait for no one. Serve Bubby's Latkes hot and crisp, with a dollop each of sour cream and good-quality apple sauce. For an easy, delicious topping simmer chunks of red-skinned apples with a spoonful of water for 15 minutes or until softened before passing through a food mill; the result is a rosy pink sauce far superior to anything store-bought.
4 large russet potatoes
1 onion
1 egg
½ tsp (2 mL) baking powder
2 tbsp (25 mL) all-purpose flour
Salt and pepper
Vegetable oil
Sour cream and apple sauce
1. Peel and grate potatoes and onion in a food processor or by hand. Transfer to a sieve or kitchen towel and squeeze out excess water. In a large bowl, combine grated mixture, egg, baking powder and flour. Season well with salt and pepper.

2. Heat a few tablespoons of oil in a large heavy skillet over moderate heat. Drop mixture into skillet, a few spoonfuls at a time. (For crisp, lacy pancakes, flatten with a spoon.) Fry in batches, turning once, for 4 minutes a side or until golden brown.

3. Drain on paper towels and serve immediately with sour cream and apple sauce.
SHARE