Brown Butter-Glazed Carrots
Temps des Fêtes 2018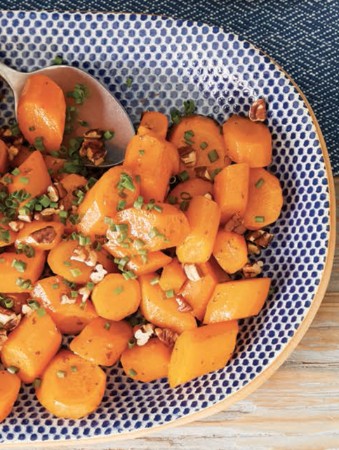 Brown Butter-Glazed Carrots
Temps des Fêtes 2018
BY: Amy Rosen
Using a classic French technique for creating tender, flavourful carrots, this version includes browning the butter and topping the carrots with toasted pecans and chives for something familiar yet deliciously unexpected.
¼ cup (60 mL) unsalted butter
2 lbs (905 g) medium-sized carrots (about 10), trimmed, peeled andcut on a deep diagonal
1 cup (250 mL) vegetable stock
Salt and pepper to taste
½ cup (125 mL) toasted pecan pieces, finely chopped
½ bunch snipped chives, about ¼ cup (60 mL)
1. Melt butter in a medium pot over medium heat until it goes slightly brown and smells nutty, 2 to 3 minutes. Add carrots and stir to coat. Add stock and bring to a boil, lower to medium-low and cover pot. Continue cooking for 8 to 10 minutes, or until carrots are just tender.

2. Uncover and turn up heat to high, stirring until carrots are glossy and glazed and cooked through, 6 to 8 additional minutes. There should be no liquid left. Taste for salt and pepper and season accordingly. Remove from heat and toss with pecans and chives.
SHARE