Brown Butter Sage & Butternut Squash Ravioli
Holiday 2020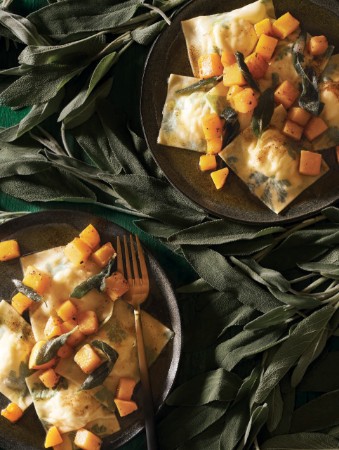 Brown Butter Sage & Butternut Squash Ravioli
Holiday 2020
BY: Victoria Walsh
The ravioli is really the star and most difficult aspect of this dish, so don't stress yourself out over the rest. Once you've mastered those, the pillowy bites are simply sautéed in nutty-smelling brown butter and robust sage. If you're looking for a quick weeknight dinner, this recipe is also delicious with store-bought ravioli.
1 butternut squash
Salt
1 batch homemade Herb-pressed Burrata & Ricotta Ravioli (recipe follows) or 24 store-bought fresh ravioli, about 3 to 4 pkgs (250 g each)
Olive oil
1/4 cup (60 mL) butter, divided
12 small sage leaves
Generous pinches salt and pepper
1. Using a vegetable peeler, peel the squash. Cut squash into 1/2-inch (1-cm) cubes.

2. Bring a large pasta pot filled with water to a boil. Salt so the water tastes like the sea. Boil ravioli until they float to the top and simmer for a moment, 2 to 4 minutes. Homemade pasta should only take about 2 minutes. Drain well.

3. Lightly coat a large nonstick frying pan with oil. Add squash. Cook, uncovered, for 15 minutes, stirring occasionally. Add 1 tbsp (15 mL) butter. Season with generous pinches of salt and pepper. Stir to coat. Cover and continue cooking until fork-tender, 10 to 15 more minutes. Remove to a bowl. Wipe pan clean.

4. Set the pan back overheat. Add remaining butter. When foamy, add sage. Cook until butter is browned, and sage is crispy about 5 minutes. Remove sage to a small plate. Add ravioli to warm butter. Toss to coat. Add squash and turn to coat. Serve topped with crispy sage.
HERB-PRESSED BURRATA & RICOTTA RAVIOLI

Since Mark Bittman says you can mix pasta dough in the food processor, I thought this method was worth a whirl. This version works and is sturdy enough to incorporate herbs into it, giving the pasta a beautiful look.

PASTA
2 cups (250 mL) all-purpose flour, plus extra for dusting
1½ tsp (7 mL) kosher salt
3 eggs
1 yolk

FILLING
1 container (250 g) burrata or buffalo mozzarella
16½ oz (475 g) traditional ricotta
2 tsp (10 mL) freshly grated lemon zest
1 tsp (5 mL) kosher salt or 1/4 tsp (1 mL) table salt
Generous grating of nutmeg, to taste

1/2 to 3/4 cup (125 to 175 mL) parsley leaves
1. Whirl flour with salt in a food processor. Add eggs and yolk. Whirl just until mixed and crumbly. Turn onto a lightly floured surface. Bring the dough together kneading into a fairly smooth ball and forming into a disc. Wrap tightly in plastic wrap. Let rest for 30 minutes at room temperature.

2. Meanwhile, tear burrata into pieces and place in a medium bowl. Using a fork stir in ricotta, zest, salt and nutmeg.

3. Cut the disc into 8 equal pieces. Working with 1 piece at a time, rewrap the rest tightly with plastic wrap. Using your hands, shape that piece into a disc. Dust pasta dough and pasta roller with flour; using the widest setting, roll out the dough 2 or 3 times. Continue to feed the sheet through the pasta machine, reducing the thickness of each round until you have a very long piece about 0.5 mm thick. Cover with plastic wrap then a dampened cloth (not too wet). Repeat with one more piece of dough.

4. Fill a small bowl with water. With lightly dampened fingertips or a brush, dab one rolled-out piece in various places then press parsley leaves where you've dampened. Repeat this in a pretty pattern all over 1 rolled-out piece. Take the other rolled-out piece and press overtop. Repeat the rolling out process (starting at the widest setting and reducing from wide to thin) with the 2 sandwiched pieces so they become 1 very long piece about 5 x 25 inches (12 x 62.5 cm). Cut in half crosswise and set both pieces on your board.

5. Over 1 piece of dough dollop filling, 1 tbsp (15 mL) at a time, spacing so there is at least 1 inch (2.5 cm) between each dollop. Dampen the spaces in between. Carefully set other parsley-pressed pieces over top. Press and seal both layers of pasta into each other by pressing in between each dollop of filling, starting with the outside edges so the filling doesn't squeeze out.

6. Using a crimped cutter or sharp knife, cut out ravioli being careful not to expose any filling. The ravioli shapes don't need to be perfect. Repeat with remaining pieces of dough and filling. Set ravioli on a lightly dusted baking sheet and keep covered with plastic wrap. These can be made just a couple of hours in advance of cooking. Keep refrigerated until ready to use.
Makes approximately 42 ravioli for 6 servings
SHARE