Brown Butter Ice Cream
Autumn 2012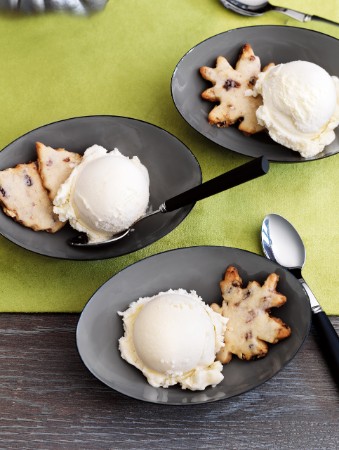 Brown Butter Ice Cream
Autumn 2012
BY: Jennifer MacKenzie
Making your own ice cream with the luscious nuttiness of brown butter allows you to serve a simple dessert yet still dazzle your guests. The Almond Raisin Crisps are a terrific flavour match.
½ cup (125 mL) unsalted butter, cut into pieces
1½ cups (375 mL) milk
1½ cups (375 mL) whipping cream
3 eggs
¾ cup (175 mL) granulated sugar
¼ tsp (1 mL) salt
½ tsp (2 mL) vanilla extract
1 Melt butter over medium-low heat in a small saucepan until it is just starting to turn golden brown and has a nutty aroma. Pour into a bowl and set aside.

2 Combine milk and 1 cup (250 mL) of the cream in a heavy-bottom saucepan. Heat over medium heat until steaming, stirring occasionally.

3 Meanwhile, in a large bowl, whisk together eggs, sugar and salt until pale. Gradually drizzle the hot cream mixture into the eggs, while whisking constantly until blended and eggs are warmed. Whisk in browned butter. Pour back into the saucepan.

4 Cook over medium-low heat, whisking constantly, for about 8 minutes or until thick enough to coat the back of a wooden spoon. Strain through a sieve into a clean bowl. Stir in remaining cream and vanilla. Let cool slightly. Place plastic wrap directly on the surface and refrigerate until very cold.

5 Freeze in an ice cream maker, according to manufacturer's instructions. Scrape the ice cream into a chilled container. Cover and freeze until firm, about 4 hours or for up to 2 days.

6 Scoop ice cream into bowls and serve with Almond Raisin Crisps (recipe follows).

ALMOND RAISIN CRISPS

2 cups (500 mL) all-purpose flour
1 tsp (5 mL) baking powder
¼ tsp (1 mL) salt
¾ cup (175 mL) unsalted butter, softened
1 cup (250 mL) granulated sugar
1 egg
1 tsp (5 mL) vanilla extract
¾ cup (175 mL) toasted sliced almonds
½ cup (125 mL) raisins, chopped
1 Combine flour, baking powder and salt in a bowl. In a large bowl, beat butter and sugar until light and fluffy. Beat in egg and vanilla. Stir in flour mixture in 3 additions until a soft dough forms. Stir in almonds and raisins. Divide dough in half and press into discs. Wrap in plastic and refrigerate for about 30 minutes or until chilled.

2 Line 2 baking sheets with parchment paper or lightly grease sheets.

3 Place 1 piece of dough between sheets of parchment or waxed paper and roll out until slightly less than ¼ inch (5 mm) thick. Cut out shapes using 2- to 3-inch (5- to 8-cm) leaf cookie cutters or desired shapes. Using a thin spatula, lift off parchment and place on prepared baking sheets, at least 1 inch (2.5 cm) apart (use a paring knife to cut any raisins stuck at the edges of shapes). Refrigerate for 15 minutes or until chilled. Repeat with remaining dough, re-rolling scraps.

4 Preheat oven to 375°F (190°C).

5 Bake, 1 sheet at a time, for 10 to 12 minutes or until golden brown around the edges and tops are firm. Let cool on pan on a wire rack for 2 minutes. Transfer to racks to cool completely. Let baking sheets cool completely before reusing.
SHARE