Bronzed Catfish with Crabmeat Sauce
Summer 2002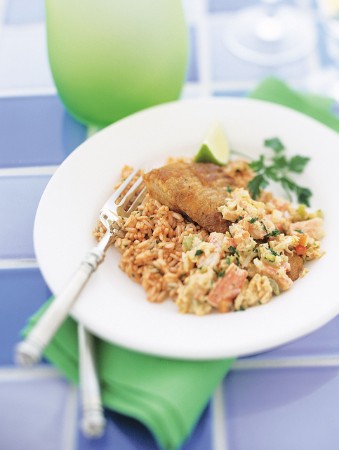 Bronzed Catfish with Crabmeat Sauce
Summer 2002
BY: Lucy Waverman
Substitute red snapper if catfish is unavailable. The sauce can be made the day before and reheated when needed. Frozen crabmeat is available at the supermarket. For better quality and, on occasion, fresh crabmeat, try a fishmonger. Catfish fillets come in larger sizes. Have the fishmonger cut them into 4 oz fillets.
Crabmeat Sauce
2 tbsp (25 mL) butter
1/2 cup (125 mL) chopped onion
1/2 cup (125 mL) chopped celery
1/2 cup (125 mL) finely chopped red pepper
1 tsp (5 mL) chopped garlic
1 tsp (5 mL) paprika
1/2 tsp (2 mL) hot pepper sauce
1 tsp (5 mL) Dijon mustard
1 cup (250 mL) whipping cream
8 oz (250 g) fresh crabmeat or (200 g) frozen
Salt and freshly ground pepper
2 tbsp (25 mL) chopped parsley

Fish
1/4 cup (50 mL) flour
1 tsp (5 mL) ground black pepper
1 tsp (5 mL) paprika
1/2 tsp (2 mL) oregano
1/4 tsp (1 mL) dried thyme
Salt to taste
Pinch cayenne
Four 4 oz (125 g) catfish fillets
2 tbsp (25 mL) vegetable oil


1. Melt butter in pot on medium heat. Add onion, celery and red pepper and sauté for 5 minutes or until softened. Stir in garlic and paprika. Cook 1 minute. Stir in hot pepper sauce, mustard and whipping cream. Bring to boil and boil 1 minute. Reduce heat to low and add crabmeat. Heat until warmed through. Season well with salt and pepper. Stir in parsley.
2. Mix together flour, pepper, paprika, oregano, thyme, salt and cayenne on a plate. Season catfish with salt and pepper then dredge the catfish in the flour mixture.
3. Heat oil in skillet on medium-high heat. Add catfish and fry until golden about 3 minutes per side. Place on individual serving plates and top with crabmeat sauce.
SHARE