Teriyaki Salmon Skewers
Temps des Fêtes 2006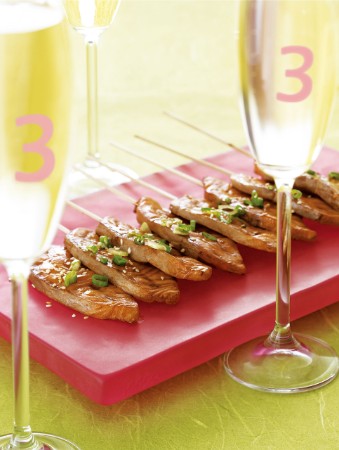 Teriyaki Salmon Skewers
Temps des Fêtes 2006
BY: Emily Richards
The sweet dark flavour of teriyaki is an ideal match for salmon. This is an easy appetizer, perfect to pick up and enjoy with a glass of sparkling wine. By using a centre cut of salmon your skewers will be equal in size and cook evenly. Let your wooden skewers soak in water for about 20 minutes to prevent flare-ups in the oven.
3 tbsp (45 mL) soy sauce
2 tbsp (25 mL) hoisin sauce
2 tsp (10 mL) rice vinegar
1 garlic clove, minced
1 salmon fillet, skinless, about 1 lb (500 g)
1 green onion, finely chopped
Toasted sesame seeds (optional)
1. Whisk together soy and hoisin sauces, vinegar and garlic in a bowl.

2. Slice salmon fillet across the grain into thin strips. Add to soy mixture and let stand for 15 minutes, turning occasionally.

3. Thread each salmon strip onto small metal or soaked wooden skewers. Place skewers on baking sheet and broil, turning and basting with marinade once, for about 4 minutes or until golden and fish flakes easily when tested. Alternatively, cook skewers on oiled grill pan.

4. Before serving, sprinkle with green onion and sesame seeds, if using.
SHARE