Curried Chicken Skewers with Lime-Yogurt Dipping Sauce
Début de l'été 2016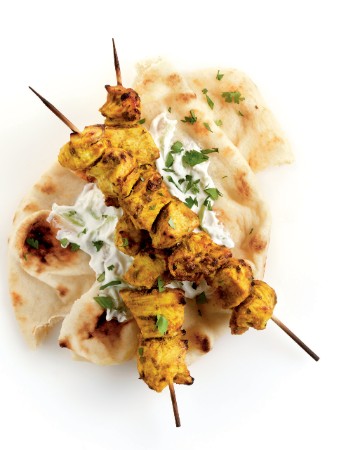 Curried Chicken Skewers with Lime-Yogurt Dipping Sauce
Début de l'été 2016
BY: Tonia Wilson-Vuksanovic
This dish can be pulled together quickly and is fun to eat. To make it even more interesting, serve the chicken with some store-bought Indian pickles and chutneys, along with a salad of tender greens.
2½ lbs (1.25 kg) chicken breast, skinless and boneless, cut into 1½-inch (4-cm) cubes
2 tbsp (30 mL) curry powder
⅓ cup (80 mL) fresh cilantro, coarsely chopped
Zest of 1 lime, finely grated on rasp
Juice of 1 lime
¼ cup (60 mL) vegetable oil
1¾ cups (425 mL) Greek-style plain yogurt
12 bamboo skewers, each 10 inches (25 cm) long
¾ cup (175 mL) English cucumber, peeled, grated
½ tsp (2 mL) sugar
Salt
Naan bread
1 In a large bowl, stir together chicken, curry powder, cilantro, lime juice (make sure to take the zest off first), 3 tbsp (45 mL) vegetable oil and ½ cup (125 mL) yogurt. Let marinate in refrigerator for at least 30 minutes.

2 Soak bamboo skewers in enough hot water to cover for 20 minutes.

3 Wring out excess water from grated cucumber by squeezing it in your fist. Place in a bowl with the remaining 1 tbsp (15 mL) oil, the remaining 1¼ cup (310 mL) yogurt, lime zest and sugar. Stir to combine and add salt to taste. Set aside.

4 Preheat broiler to high, place oven rack in the middle.

5 Skewer the chicken pieces, making sure each skewer has an equal number of pieces. Place on foil-lined baking sheet and place on rack in middle of oven.

6 Broil for 10 minutes, flip skewers and broil for 5 more minutes. Raise the baking sheet to the top rack and broil for 2 minutes longer to brown the chicken.

7 Serve with yogurt dip and naan bread.
SHARE