British Chips
Winter 2016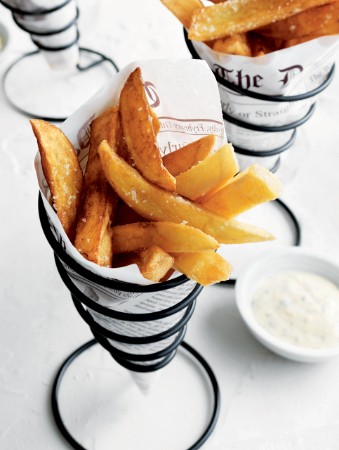 British Chips
Winter 2016
BY: Lucy Waverman
I grew up on British chips—thick and crunchy on the outside and soft-centred. But it was not until I tried the chips at chef Heston Blumenthal'saward-winning restaurant in Berkshire, England, that I found out how to get the same texture. This is an adaption of his recipe.
3 lbs (1.5 kg) Yukon Gold potatoes, peeled
Vegetable oil for deep-frying
Kosher salt
1 Peel potatoes. Cut into about ¾-inch-wide (2-cm) batons. Soak in cold water for 10 minutes. Place in a pot of fresh cold salted water and bring to boil. Reduce heat to simmer and cook with lid off 10 to 12 minutes or until fork-tender. Drain and return to pot over turned off heat to dry with lid off, allowing potatoes to steam off excess moisture. Place potatoes on a rack over a baking sheet and refrigerate for at least 1 hour or until needed. This makes sure they are really dry.

2 Heat oil in a wok or deep fryer to 250°F (120°C) or until a piece of bread turns brown in 1 minute. Add chips and fry until a pale creamy colour, about 4 to 5 minutes. Drain well on paper towels over a rack. Allow to cool in refrigerator. They can be refrigerated until needed.

3 Reheat oil to 375°F (190°C). Return chips in batches, frying until they are brown and crisp, about 2 to 3 minutes. Do not crowd the pan.Remove from oil and drain on paper towels. Sprinkle with kosher salt. Serve with Beer Aïoli Dip (recipe follows).
BEER AÏOLI DIP

This dip has everything in it for a great dip for fries—citrus, spice, fresh herbs and a zesty mayonnaise-beer base. It will make ketchup a thing of the past. It also pairs well with vegetables and fried chicken.
1 cup (250 mL) mayonnaise
¼ cup (60 mL) pilsner
1 tsp (5 mL) chopped garlic
1 tbsp (15 mL) lemon juice
1 tsp (5 mL) grated lemon zest
½ tsp (2 mL) Sriracha
¼ cup (60 mL) olive oil
2 tbsp (30 mL) chopped parsley
Salt and freshly ground pepper
1 Whisk together mayonnaise and pilsner. Add garlic, lemon juice, zest and Sriracha. Slowly beat in olive oil. Stir in parsley and season with salt and pepper. Serve with chips.
SHARE