Brisket from Barque Smokehouse
Summer 2012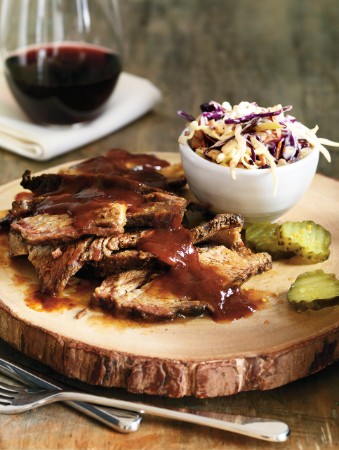 Brisket from Barque Smokehouse
Summer 2012
BY: Lucy Waverman
Chef and co-owner of Barque, David Neinstein, injects his brisket with a mixture of beef bouillon and apple juice, keeping it moist while cooking. Use a bouillon cube or bouillon paste for the beefy flavour. You can buy inexpensive injectors at kitchen shops. Double brisket includes the brisket point as well as the flat part which gives you more fat than a single—but you can use either double or single. The double will take slightly longer to cook but will be juicier. If you don't have access to guajillo peppers you can substitute regular chili powder or ancho chili powder. Serve with coleslaw and pickles.
1 tbsp (15 mL) beef stock concentrate
2 cups (500 mL) apple or grape juice
1 double brisket, 6 to 7 lbs (2.7 to 3.15 kg)

RUB
1/3 cup (80 mL) kosher salt
3 tbsp (45 mL) granulated sugar
3 tbsp (45 mL) brown sugar
2 tsp (10 mL) black peppercorns, crushed
2 tsp (10 mL) green peppercorns, crushed
1 tsp (5 mL) pink peppercorns, crushed
1 tsp (5 mL) red pepper flakes
2 tsp (10 mL) ground cumin
1 tbsp (15 mL) mustard seed
1 tsp (5 mL) garlic powder
1 tbsp (15 mL) dried thyme leaves
2 tbsp (30 mL) paprika
2 tbsp (30 mL) ground guajillo pepper or other chili powder
1 Combine beef stock concentrate with ¼ cup (60 mL) apple juice in a small pot over low heat. Stir until concentrate has dissolved in liquid. Add rest of juice and let stand until cooled. Using an injector syringe, inject mixture into brisket. Keep injecting all over until the liquid begins to spill out.

2 In a bowl, combine salt, sugars, peppercorns, red pepper flakes, cumin, mustard seed, garlic powder, thyme leaves, paprika and guajillo pepper. Sprinkle rub over brisket on both sides, until well coated. Reserve any leftover rub for another brisket.

3 Smoke the brisket for 12 to 14 hours or until internal temperature is 190°F (88°C) and the meat is very tender.

4 Slice into thin slices and serve with barbecue sauce.

Serves 12 to 16


Turning your barbecue into a smoker
➤ The first step is to make smoke pouches. They make all the difference in gas-barbecue smoking.

➤ Choose the wood chips you prefer— cedar, applewood, mesquite, hickory and cherry all work well.

Soak your wood chips for 30 minutes. Lay a square of foil on the counter and loosely pack it with 2 cups (500 mL) chips. Fold all ends over to seal the pouch. Punch holes with a fork on either side of the pouch. One pouch smokes for about 45 minutes to an hour so make a few at a time so that the wood chips don't dry out.

➤ Turn on BBQ with all burners set to high. Once hot, turn the back burner to medium-low and turn off other burners. Place smoke pouch on medium-low burner. Heat for 15 minutes with lid closed. You should see smoke rising. The barbecue temperature should reach no more than 200°F to 220°F (93°C to 104°C). Keeping the temperature low is most important and you may have to try a few different settings to find the optimal approach for your barbecue.

➤ Use the same method with two-burner or four-burner barbecues. It is all about setting the right temperature.

➤ Heavily sprinkle the meat with rub and place it on the turned-off burners. Pork and brisket take about 12 to 14 hours on the grill, ribs about 7 to 10.

➤ Alternatively, smoke meats for 4 hours on the barbecue then wrap in foil and move to a 220°F (104°C) oven for the remaining time.

➤ Reheat meat at a later time by wrapping in foil and placing in a 300°F (150°C) oven for 45 minutes.


SHARE