Brined Roast Rack of Pork
Temps des Fêtes 2015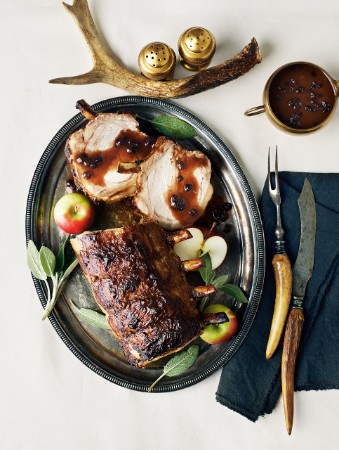 Brined Roast Rack of Pork
Temps des Fêtes 2015
BY: Lucy Waverman
The succulence of this pork will make you a brining convert. Brining will improve the flavour and texture of most pork, even if the meat is inadvertently overcooked. If you do not have any sparkling cider then substitute regular apple cider and add an extra tablespoon (15 mL) of bourbon. Serve with mashed sweet potatoes and roasted Brussels sprouts.
BRINE
2 cups (500 mL) non-alcoholic apple cider
½ cup (125 mL) cider vinegar
1 cup (250 mL) kosher salt
½ cup (125 mL) maple syrup
2 tsp (10 mL) peppercorns
2 tbsp (30 mL) grated ginger
4 Thai chilies
16 cups (4 L) water

PORK
1 rack of pork (6 chops)
1 tsp (5 mL) chopped garlic
2 tsp (10 mL) grated lemon rind
2 tbsp (30 mL) Dijon mustard
2 tbsp (30 mL) soy sauce

SAUCE
½ cup (125 mL) sparkling hard apple cider
1 cup (250 mL) beef or chicken stock
2 tbsp (30 mL) balsamic vinegar
¼ cup (60 mL) dried blueberries
1 tbsp (15 mL) bourbon
Salt to taste
1 Combine apple cider and vinegar in a pot large enough to hold the pork. Add salt, maple syrup, peppercorns, grated ginger and Thai chilies. Bring to boil. Remove from heat and add water. Cool completely. Place pork in brine and brine for 24 hours, refrigerated. Remove from brine, rinse off and pat dry. Discard brine. Refrigerate pork for 2 hours to finish drying off, then bring back to room temperature.

2 Preheat oven to 450°F (230°C).

3 Place pork on rack in a roasting pan. Combine garlic, lemon rind, mustard and soy sauce, and rub all over pork. Bake for 15 minutes. Reduce heat to 325°F (160°C) and roast 1 hour longer or until a thermometer reads 150°F (65°F) for a pink roast. Cook 15 minutes longer for medium. The time will vary depending on the thickness of the rack. Remove pork to a carving board and let sit for 15 minutes while making sauce.

4 Pour fat out of roasting pan, add sparkling apple cider and bring to boil over medium heat, stirring up all the little bits on the pan. Boil for 1 minute. Add stock and balsamic vinegar and bring to boil. Add in blueberries and turn heat to medium-low. Simmer until sauce is slightly thickened, about 6 minutes. Add in bourbon and cook for 1 minute. Season to taste.


SHARE