Brined Pork Chops with Apple Ginger Sauce
Printemps 2006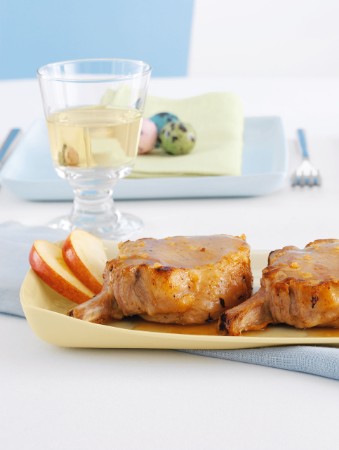 Brined Pork Chops with Apple Ginger Sauce
Printemps 2006
BY: Lucy Waverman
Pork chops have a tendency to be dry when grilled or baked. Brining them makes all the difference. This brine, which has the added flavour of maple syrup and star anise, injects them with flavour and makes them succulent. Look for rib chops that have been Frenched (the bones scraped clean) for the best presentation, but you can use loin chops, too.
3 cups (750 mL) water
1 cup (250 mL) apple cider
¼ cup (50 mL) kosher salt
¼ cup (50 mL) maple syrup
3 star anise
Six 1½ -inch-thick (4-cm) pork rib chops
Pepper to taste
2 tbsp (25 mL) vegetable oil
2 tsp (10 mL) finely chopped ginger
2 tsp (10 mL) lemon juice
1 cup (250 mL) apple juice
1 cup (250 mL) stock
¼ cup (50 mL) cold butter
1. Place water, cider, salt, maple syrup and anise in a pot and bring to boil. Stir to dissolve the salt then remove from heat and cool completely to make brine.

2. Place pork chops in 1 or 2 sealable plastic bags. Pour brine over to completely cover the chops. Seal bags and refrigerate for 12 hours.

3. Remove chops, drain well and pat dry. Season with pepper.

4. Preheat oven to 450ºF (230ºC).

5. Heat oil in a skillet over medium-high heat. Add chops in batches and sear on each side about 2 minutes per side. Remove chops to baking sheet. Transfer to oven and bake for 10 to 12 minutes or until just slightly pink, turning once. Remove from oven and place on plates.

6. Add ginger, lemon juice, apple juice and stock to skillet when chops are baking. Bring to boil and boil until reduced by half. Stir in butter and spoon over chops.
SHARE