Brazilian Beef Kebabs with Rice Pilaf
Summer 2014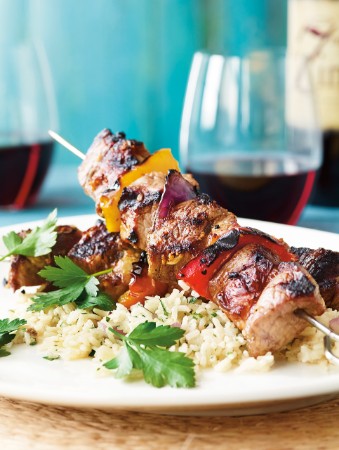 Brazilian Beef Kebabs with Rice Pilaf
Summer 2014
BY: Marilyn Bentz-Crowley
Brazil, like soccer arch-rival Argentina, prides itself on raising superbly flavourful beef. A favoured cut for the barbecue is picanha which is cut from the rump cap and threaded whole onto a sword-like skewer. Here equally flavourful large beef chunks are threaded onto skewers and served with fluffy rice pilaf in the Brazilian manner, achieved by adding less liquid than usual, resulting in firm grains with a touch of garlic flavour.
KEBABS
3 lbs (1.5 kg) strip loin or rib-eye roast
2 tbsp (30 mL) minced garlic cloves, about 6 to 8 large
2 tsp (10 mL) coarse salt
1 tsp (5 mL) coarsely ground black pepper
2 medium sweet red, yellow or orange peppers, preferably a mix of colours
½ medium red or Spanish onion
8 skewers, each 12 inches (30 cm), preferably metal

RICE PILAF
1 tbsp (15 mL) vegetable oil
¾ cup (175 mL) diced onion, red or Spanish
2 large garlic cloves, minced
2 cups (500 mL) long-grain converted or basmati rice
½ to 1 tsp (2 to 5 mL) salt
3 cups (750 mL) chicken broth
2 tbsp (30 mL) chopped fresh parsley
1 Do not trim off fat from meat, unless very thick, as fat bastes kebabs during grilling. Cut beef into large 1½-inch (4-cm) cubes; place in a large bowl. Using fingers, mix garlic with salt and pepper in a small bowl. Again using fingers, rub cubes of beef with garlic mixture until evenly coated.

2 Seed and cut peppers and cut onion into pieces about same size as beef cubes. On large skewers, alternately thread beef, a piece of pepper, beef, a piece of onion, etc. until all beef is used up. Cover and refrigerate until needed, up to half a day.

3 To cook rice, heat oil in a large saucepan over medium heat until hot; stir in onion. Cook 5 minutes or until just softened; stir in garlic. Cook another minute; then add rice and salt, using the lesser amount if the broth is seasoned. Add broth. Bring to a boil; reduce heat to very low and steam for 15 to 20 minutes. Stir in parsley.

4 Meanwhile, preheat barbecue until very hot.

5 Grill kebabs for 6 to 8 minutes, turning 3 or 4 times or until beef is crusty but still medium-rare inside. Serve right away with rice.
SHARE