Brandied Heirloom Tomato Bruschetta
Autumn 2006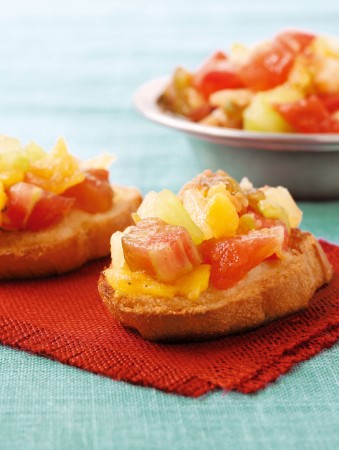 Brandied Heirloom Tomato Bruschetta
Autumn 2006
BY: Sasha Chapman
Use 3 different coloured varieties to make an eye-catching bruschetta. Red, sweet Brandywines and yellow-orange Alleghenies pair nicely with the deep purple of smoky-salty Black Krims.
1 lb (500 g) ripe heirloom tomatoes
(see above for suggested varieties)
3 tbsp (45 mL) olive oil
2 tbsp (25 mL) brandy
1 clove garlic
8 slices sourdough baguette (or cut sourdough boule
slices into quarters)
Sea salt and freshly ground pepper to taste
1. Preheat broiler.

2. Score each tomato with an X across the bottom. Place in a large bowl and pour over boiling water to cover. Let stand 1 minute. Remove tomatoes from bowl. When cool enough to handle, peel and slice in half crosswise. Squeeze out seeds and discard. Dice tomato flesh and toss with olive oil and brandy.

3. Cut garlic clove in half and rub cut side over bread slices, then brush each side with olive oil. Broil or grill until golden brown on both sides.

4. Salt and pepper tomatoes to taste, then spread a thin layer on each slice of bread. Serve immediately.
SHARE