Braised Short Ribs with Red Wine and Vegetables
Holiday 2005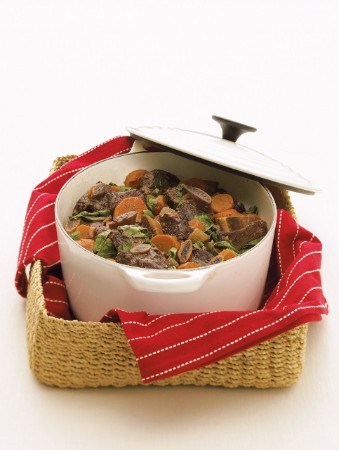 Braised Short Ribs with Red Wine and Vegetables
Holiday 2005
BY: Jennifer McLagan
This recipe cooks itself and is better made ahead. Refrigerating the ribs overnight blends the flavours and allows you to easily remove the fat from the sauce. Serve these braised ribs with horseradish mashed potatoes. If there are any leftovers, remove the meat from the bone and make into a pasta sauce.
4½ lbs (2.25 kg) cross cut short beef ribs
Kosher salt and freshly ground pepper
3 tbsp (45 mL) vegetable oil
3 carrots, peeled and sliced
2 onions, peeled and sliced
2 celery stalks, sliced
1 bottle (750 mL) red wine, preferably Shiraz
3 cloves garlic, peeled
1 Serrano chili
1 sprig fresh thyme
3 stems parsley
1 bay leaf
8 cups (2 L) shredded fresh spinach
1. Preheat the oven to 300ºF (150ºC).

2. Cut the ribs into individual pieces between the bones. Season the meat well with salt and pepper.

3. In a Dutch oven or ovenproof casserole, heat 2 tbsp (25 mL) oil over medium heat. Brown the ribs in batches, on all sides, transferring them to a plate when brown. Once all the meat is browned, add the remaining oil if necessary, and the carrots, onions and celery to the Dutch oven. Continue to cook, stirring for 5 to 7 minutes or until the onion begins to colour.

4. Pour in the wine and bring to a boil, scraping up any browned bits from the bottom of the pan. Add the garlic, chili, thyme, parsley and bay leaf. Add 1 tsp (5 mL) kosher salt. Add the ribs and any juices back into the Dutch oven. Cover with a piece of wet parchment paper, then the lid.

5. Place the ribs in the oven and cook for 1½ hours. Remove the lid and parchment paper, stir and continue to cook, uncovered, for another 1½ hours or until the ribs are very tender. (You can serve the ribs now by skimming the fat from the sauce and stirring in the spinach.)

6. Transfer the ribs and vegetables to an ovenproof dish, discarding the herbs and chili pepper. Strain the liquid into a bowl. When cool, cover and refrigerate the sauce and ribs overnight.

7. Preheat the oven to 300ºF (150ºC).

8. Remove the fat from the sauce and pour sauce over ribs and vegetables. Place in the oven and cook until heated through, 45 minutes. Stir in the spinach, return to the oven uncovered for 5 minutes. Serve with horseradish mashed potatoes.
SHARE