Braised Red Cabbage
Holiday 2009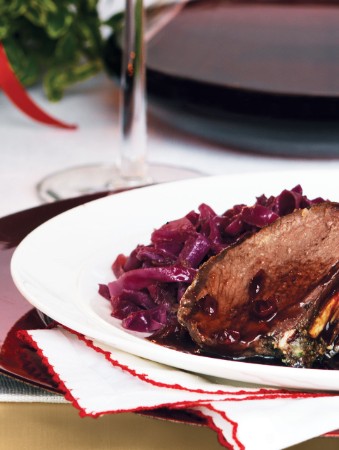 Braised Red Cabbage
Holiday 2009
BY: Lucy Waverman
One of my favourite Christmas side dishes is originally a Swedish recipe. It complements the venison because the sweetness brings out the sweetness of the venison—but try it with turkey too.
2 tbsp (25 mL) butter
1 tbsp (15 mL) vegetable oil
1 cup (250 mL) chopped red onion
1 red cabbage, about 2 lbs (1 kg) cored and thinly sliced
1 bay leaf
3 cloves
Pinch allspice
Salt and freshly ground pepper
½ cup (125 mL) red wine
¼ cup (50 mL) red wine vinegar
2 tbsp (25 mL) brown sugar
½ cup (125 mL) grated apple
¼ cup (50 mL) redcurrant jelly
1. Heat butter and oil in a large heavy saucepan over medium-high heat. Add onions and sauté until softened, about 2 minutes. Add red cabbage and sauté until coated with oil. Add bay leaf, cloves and allspice and season with salt and pepper.

2. Pour in red wine and vinegar and sprinkle in brown sugar. Toss together and bring to boil, stirring occasionally.

3. Turn heat to low, add apples, cover and cook for 1 hour, stirring occasionally, or until tender. Add water if cabbage is sticking. Stir in redcurrant jelly and cook another 20 minutes covered. Taste for seasoning, adjusting as needed, remove bay leaf.
SHARE