Braised Oxtail with Stewed Eggplant, Red Peppers & Bay Leaf
Winter 2016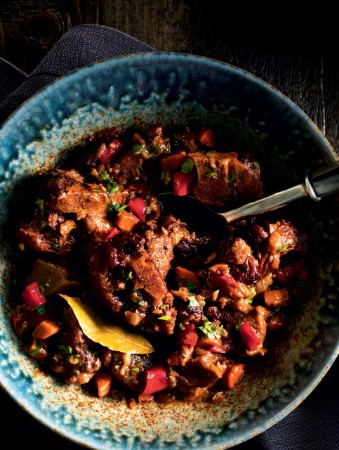 Braised Oxtail with Stewed Eggplant, Red Peppers & Bay Leaf
Winter 2016
BY: Tonia Wilson-Vuksanovic
As the eggplant stews it becomes soft and creamy, which makes for a rich, luxurious sauce for the oxtail; a perfect accompaniment to pasta or polenta. You'll find oxtail sold frozen, and most often pre-sliced into manageable pieces of 1 to 2 inches (2.5 to 5 cm). If it is still whole, ask your butcher to slice it for you.
2 lbs (1 kg) eggplant, peeled and cut into 1 inch (2.5 cm) cubes
Salt and freshly ground black pepper
¼ cup (60 mL) olive oil
2½ lbs (1.25 kg) oxtail, thawed
2 cups (500 mL) onions, finely chopped
1 cup (250 mL) carrot, peeled and finely chopped
1 large red pepper, seeded and finely chopped
2 tbsp (30 mL) garlic, finely chopped
2 tbsp (30 mL) tomato paste
1 cup (250 mL) red wine
3 cups (750 mL) beef stock or water
2 to 3 large bay leaves
2 tbsp (30 mL) flat-leaf parsley, finely chopped
1 Preheat oven to 325°F (160°C).

2 In a large colander, toss cubed eggplant with 2 tsp (10 mL) salt, and let rest. This will help to release excess water from eggplant. Let sit until ready to use (step 6), then rinse off salt, shake off excess water, and add eggplant to pot.

3 In a large Dutch oven, heat half of the olive oil over medium-high. Season oxtail generously with salt and pepper, sear in oil until well browned on all sides, about 10 minutes per side. Work in batches to avoid crowding the pot.

4 Set browned oxtail aside and add onion, carrot, red pepper and garlic; cook over medium-high heat for 10 minutes. Add tomato paste and cook, while breaking up paste, for another 2 minutes.

5 Remove ingredients from the pot and set aside.

6 Heat remaining oil in pot, add rinsed eggplant and cook until golden over medium-high heat, about 5 minutes.

7 Add wine and reduce for 1 minute; add the oxtail, onion mixture, stock (or water if using) and bay leaves. Bring to a boil, stir, cover and place in oven.

8 Cook in oven until fork-tender, about 3 hours. Check pot each hour to make sure the liquid has not dried out, adding ½ cup (125 mL) water if necessary.

9 Once ready, place oxtail on a platter. Using the back of a wooden spoon, mash up some of the eggplant to thicken the sauce. Remove bay leaves. Stir in parsley, adjust seasoning and spoon over oxtail. Serve.
SHARE