Braised Lamb Shanks with Goat-Cheese Mashed Potatoes
Autumn 2013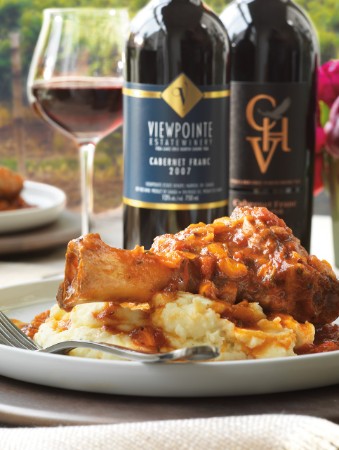 Braised Lamb Shanks with Goat-Cheese Mashed Potatoes
Autumn 2013
BY: Tonia Wilson-Vuksanovic
This is the perfect weekend meal as the lamb can be prepared with ease in the morning and reheated for dinner. Any leftover sauce and meat can make a wonderful ragù for egg noodles.
3 tbsp (45 mL) olive oil
4 lamb shanks, about 1 lb (500 g) each
Salt
2 cups (500 mL) onions, coarsely chopped
2 cups (500 mL) orange or yellow bell peppers
2 tbsp (30 mL) garlic, coarsely chopped
1 tsp (5 mL) Hungarian paprika
2 tbsp (30 mL) tomato paste
2 cups (500 mL) canned diced tomatoes
2 tbsp (30 mL) fresh thyme, coarsely chopped
2 cups (500 mL) beef stock or water
2½ lbs (1.25 kg) Yukon Gold potatoes, peeled and chopped into 1 inch (2.5 cm) cubes
1 cup (250 mL) 5% light cream
½ cup (125 mL) unsalted butter
⅔ cup (150 mL) goat cheese (fresh, not aged)
⅛ tsp (0.5 mL) grated nutmeg
⅛ tsp (0.5 mL) white pepper
1 Preheat oven to 300°F (150°C).

2 In a large Dutch oven, heat oil over medium-high, season shanks with salt and brown on all sides, about 20 minutes. Remove from pan and set aside.

3 Remove excess oil from pan and add onions, peppers, garlic and ¼ tsp (1 mL) salt, cook for 5 minutes. Add paprika and tomato paste and cook while stirring for 1 minute.

4 Add diced tomatoes, thyme and beef stock, bring to the boil over high heat. Place shanks back in the pan, cover and place in preheated oven. Cook for 3 hours or until meat is very tender.

5 While shanks are cooking, boil potatoes. Place potatoes in a large pot of water over high heat and bring to a boil. Cook until potatoes are fork tender, about 30 minutes. Drain cooked potatoes into a strainer.

6 Into the same pot, add cream, butter, goat cheese, nutmeg and pepper. Warm over medium heat. Turn off heat and add the potatoes.

7 Mash until fluffy and season generously with salt to taste.

8 Serve shanks with potatoes and sauce poured over. When shanks are finished, adjust consistency of sauce if needed. If it is too runny, reduce over high heat to thicken; if it is too thick, add a small amount of water.
SHARE