Braised Escarole
Automne 2007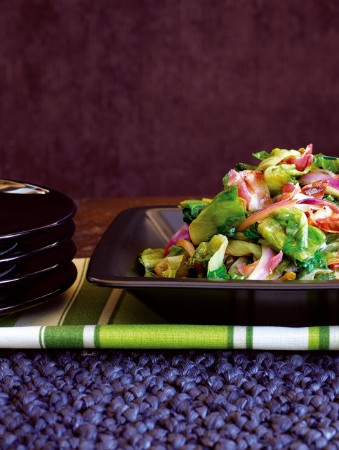 Braised Escarole
Automne 2007
BY: Lucy Waverman
Use escarole, frisée, endive, Swiss chard, beet tops, collard greens or a mixture, removing the tough stem ends if necessary. These greens are slightly bitter but the flavour mellows out when cooked. You can substitute bacon for pancetta. This is good with beef and lamb as well as duck.
2 heads escarole lettuce
2 tbsp (25 mL) olive oil
2 oz (60 g) pancetta, about 6 slices
1 cup (250 mL) sliced red onion
½ cup (125 mL) vegetable or chicken stock
Salt and freshly ground pepper
1. Bring a pot of salted water to boil. Divide lettuce into leaves, add to pot and boil for 2 minutes or until just tender. Drain well and rinse in cold water. Squeeze out any excess water and coarsely chop. Reserve.

2. Heat oil in a large skillet over medium-high heat. Add pancetta and sauté for 2 to 3 minutes or until crispy. Add red onions and sauté another minute.

3. Add reserved lettuce and cook for 1 minute. Add stock and season with salt and pepper. Reduce heat to low, cover and cook for 5 minutes or until any remaining liquid disappears. Uncover and cook another 5 minutes or until any remaining liquid disappears. Reseason if needed.
SHARE