Braised Brisket
Spring 2011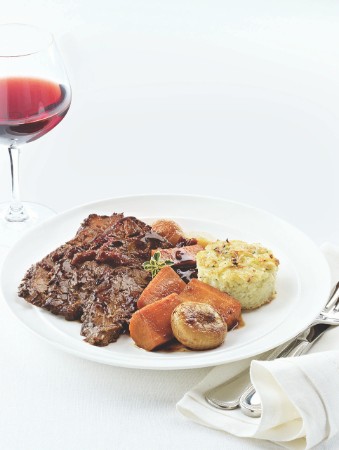 Braised Brisket
Spring 2011
BY: Lucy Waverman
Here is a perfect braised brisket that makes a wonderful dinner for Passover or any celebration. You can add other vegetables such as parsnips or turnips depending on what you serve with it. The gold standard is to use the small Italian onions called cipollini, but if peeling them seems like too much work buy four smallish red onions and peel and cut them into quarters through the root. If you make this brisket ahead of time and refrigerate it, the fat congeals, making it very easy to skim it off the sauce. Leftovers make excellent sandwiches or can be reheated for another meal. If you are using this for Passover, the sauce cannot be thickened with flour, but for other uses cook together 3 tbsp (45 mL) flour and 3 tbsp (45 mL) oil until browned and then stir the mixture into the sauce. Bring to a boil, simmer 5 minutes, then pour back over the brisket.
HERB AND SPICE MIXTURE
1 tbsp (15 mL) mild smoked Spanish paprika
1 tbsp (15 mL) chopped thyme
1 tbsp (15 mL) chopped rosemary
2 tsp (10 mL) cracked fennel seeds
2 tsp (10 mL) cracked peppercorns
2 tbsp (25 mL) chopped garlic
1 tbsp (15 mL) brown sugar
¼ cup (50 mL) olive oil
6 lbs (2.7 kg) brisket, in 1 piece
Salt to taste

VEGETABLES
3 cups (750 mL) beef stock
1 cup (250 mL) canned tomatoes, chopped with juice
3 cups (750 mL) carrots, cut in 2-inch (5-cm) pieces
18 cipollini onions


1 Combine smoked Spanish paprika, thyme, rosemary, fennel seeds, peppercorns, garlic, and tomatoes brown sugar and 2 tbsp (25 mL) oil. Rub all over brisket and let sit for 30 minutes. Season brisket with salt.

2 Preheat oven to 450°F (230°C).

3 Heat remaining 2 tbsp (25 mL) oil in a large roasting pan and add brisket. Place in oven, uncovered, for 15 minutes or until beginning to brown.

4 Reduce heat to 325°F (160°C).

5 Cover tightly with a lid and foil and bake for 2 hours. Remove cover and add tomatoes and cook covered 1 more hour. Add carrots and onions, pushing them down into liquid, and cook, covered, another hour or until brisket is fork tender and vegetables are soft. Remove from heat and let cool.6 Remove fat from gravy and slice brisket in thin slices. Return to pan to reheat at 350°F(180°C) for 30 minutes when needed.



Serves 8 to 12 depending on number of accompanying side dishes
SHARE