Braised Beef with Asian Spice and Coconut
Printemps 2013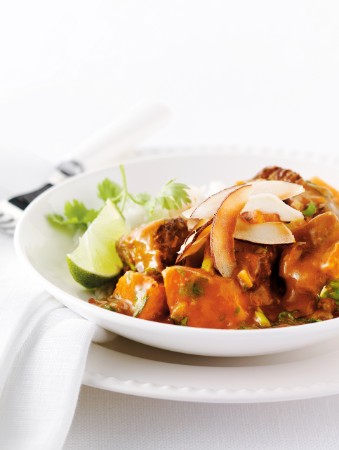 Braised Beef with Asian Spice and Coconut
Printemps 2013
BY: Julia Aitken
This hearty recipe takes homey stewing beef and then layers on the flavours to create an Asian-style braise with a ton of punch. Adjust the cayenne according to how fiery you'd like this to be. Half a teaspoon, which gives it a bit of a kick, is a good place to start. The lemon grass and lime leaves add a fresh hit of citrus. Lime leaves look as if they have a nipped-in waist and sometimes split in half, so you may find you have to add 16 pieces altogether. You can serve the braise with rice or noodles, if you like, but the sweet potatoes make this a complete dish that really only needs a green vegetable or a salad.
3 lbs (1.5 kg) stew beef, trimmed of excess fat and cut into 1½ inch (4 cm) pieces
¼ cup (60 mL) canola oil
1 large onion, chopped
¼ cup (60 mL) coarsely chopped cilantro stalks
¼ cup (60 mL) Thai red curry paste
2 tbsp (30 mL) finely chopped fresh ginger
4 cloves garlic, minced
½ tsp (2 mL) cayenne (or to taste)
4 cups (1 L) homemade or no-salt-added beef stock
1 can (398 mL) unsweetened coconut milk
8 kaffir lime leaves
1 stalk lemon grass, trimmed, cut into 2 inch (5 cm) lengths and bruised
2 large sweet potatoes, peeled and cut into 1 inch (2.5 cm) chunks
⅓ cup (80 mL) finely chopped green onions
⅓ cup (80 mL) finely chopped cilantro
2 tbsp (30 mL) fresh lime juice
1 tbsp (15 mL) packed brown sugar
1 tbsp (15 mL) fish sauce
Kosher salt and freshly ground black pepper
Toasted coconut shavings
1 Adjust oven shelf to lowest position and preheat oven to 325°F (160°C).

2 Pat beef dry with paper towels.

3 In a large flameproof casserole or Dutch oven, heat 2 tbsp (30 mL) canola oil over medium-high heat. Cook beef, in batches, until well browned on all sides, about 8 minutes per batch, removing beef to a large bowl after browning and adding more oil to pot as necessary.

4 Add onion to pot and cook, stirring, until onion is softened, about 7 minutes. Stir in cilantro stalks, curry paste, ginger, garlic and cayenne and cook, stirring, for 1 minute.

5 Add stock and bring to a boil, stirring to scrape up any browned bits from bottom of pot. Stir in coconut milk, lime leaves and lemon grass. Return beef to pot, along with any juices that have accumulated in bowl.

6 Bring to a boil, cover tightly and transfer pot to oven. Cook until beef is very tender, about 2 hours. With a slotted spoon, scoop out beef to a warm serving dish (don't worry if bits of onion are attached, but leave larger flavourings in pot). Cover dish and keep warm in switched-off oven.

7 Strain braising liquid through a fine sieve, pressing on solids in sieve to release liquid. Discard solids. Return liquid to pot and add sweet potatoes. Bring to a boil over high heat, then reduce heat to medium-low and simmer, uncovered, until sweet potatoes are just tender, about 12 minutes (do not overcook). With a slotted spoon, remove sweet potatoes from pot, add to beef and stir gently. Cover dish and return to oven.

8 Increase heat under pot to high and boil liquid, stirring occasionally, until it has reduced and thickened slightly, 10 to 12 minutes. Stir in green onions, cilantro, lime juice, sugar and fish sauce. Taste and add more lime juice, sugar and fish sauce, plus salt and pepper if necessary.

9 Pour reduced cooking liquid over beef and sweet potatoes. Sprinkle with toasted coconut shavings.
SHARE