Braised Artichokes Barigole
Spring 2013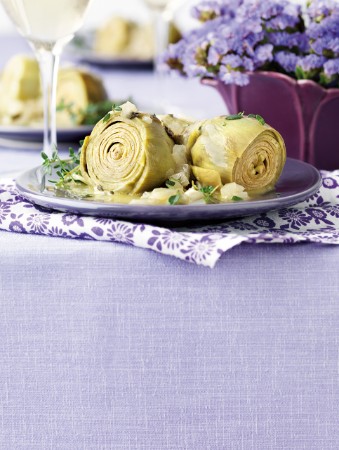 Braised Artichokes Barigole
Spring 2013
BY: Lucy Waverman
This classic buttery French dish only works with small artichokes. If you prefer not to add the butter at the end, omit it. Without butter, the dish will be more classic Italian than French.
8 small artichokes, halved if larger
1 tbsp (15 mL) lemon juice
3 tbsp (45 mL) peeled and thinly sliced garlic
½ cup (125 mL) chopped onions
2 tsp (10 mL) chopped fresh thyme, or 1 tsp (5 mL) dried
1 cup (250 mL) water
1 cup (250 mL) chicken stock or more water
¼ cup (60 mL) olive oil
¼ cup (60 mL) butter
1 tbsp (15 mL) finely chopped anchovies
Salt and freshly ground pepper to taste
1 Peel off about a quarter of the artichoke outer leaves until you see the pale green tender ones underneath. Trim and peel stems. Cut about one-third off the top (make sure you discard any spiky bits) and drop into enough water to cover artichokes with 1 tbsp (15 mL) of lemon juice to keep the cut edges from discolouring.

2 Drain artichokes and place in a skillet or saucepan that will hold them in 1 layer. Add garlic, onion, thyme, water, stock and olive oil. Bring to boil over medium-high heat. Cover, turn heat to low and simmer for about 15 minutes or until nearly tender.

3 Remove lid and simmer for 5 minutes longer or until base of artichokes are easily pierced with a fork and sauce has reduced. Remove artichokes.

4 Reduce cooking liquid for 5 to 8 minutes or until slightly thickened. Add butter and anchovies to pot.

5 Simmer slowly, shaking the pan for 2 minutes or until flavours have developed and butter is absorbed. Taste for seasoning, adding salt and pepper as needed, just before serving. Pour sauce over artichokes to serve.
SHARE