Spiced Short Ribs with Horseradish Butter
Holiday 2014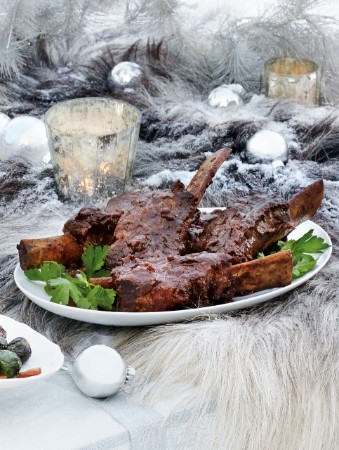 Spiced Short Ribs with Horseradish Butter
Holiday 2014
BY: Lucy Waverman
English-style short ribs are on the long bonerather than cut crosswise on three bones.They are tastier and more tender because ofthe way the meat is cut and look much moreelegant. The heady sauce complements thesweetness of the meat. Make up to three daysahead of time to easily remove the fat.
MARINADE
½ cup (125 mL) red wine
1 tbsp (15 mL) chopped garlic
2 tbsp (30 mL) Dijon mustard
2 tbsp (30 mL) soy sauce
1 tbsp (15 mL) Sriracha or other hot sauce
¼ cup (60 mL) olive oil
Salt and freshly ground pepper to taste

6 short ribs, English style, approximately
14 oz (425 g) each
2 tbsp (30 mL) olive oil
2 cups (500 mL) chopped onion
1 tbsp (15 mL) chopped garlic
½ tsp (2 mL) ground cinnamon
1 tbsp (15 mL) Worcestershire sauce
1 tbsp (15 mL) Dijon mustard
2 cups (500 mL) canned tomatoes, drained and chopped
2 cups (500 mL) beef stock

HORSERADISH BUTTER
¼ cup (60 mL) grated fresh horseradish
½ cup (125 mL) softened unsalted butter
1 Combine red wine, garlic, mustard, soysauce and Sriracha in a medium bowl. Whiskin olive oil. Season with salt and pepper.

2 Coat ribs with the mixture and leave to marinate, refrigerated, for 2 hours.

3 Preheat oven to 300°F (140°C).

4 Heat oil in heavy ovenproof pot over high heat. Working in batches, sear ribs 2 to 3 minutes per side, or until browned. Remove to a plate.

5 Reduce heat to medium. Add onions and sauté until softened, about 2 minutes. Add garlic and cinnamon and cook 1 minute longer. Stir in Worcestershire, Dijon, tomatoes and stock and bring to a boil.

6 Return ribs to sauce. Cover and transfer to the oven. Bake for 2 to 2½ hours or until tender. Uncover and bake another 30 minutes or until meat is very tender. Remove ribs from sauce and reduce until thickened slightly and flavourful.

7 Cream together horseradish and butter.

8 Place a scoop of Root Vegetable Mash (recipe follows) in a large soup bowl or plate and top with short rib. Add a dollop of horseradish butter.

ROOT VEGETABLE MASH
Rutabaga adds a wonderful flavour to this mash. It takes slightly longer to cook so cut it smaller than the rest of the vegetables.

½ head celeriac
2 parsnips
2 lbs (1 kg) Yukon Gold potatoes
1 small rutabaga, preferably unwaxed
¼ cup (60 mL) whipping cream
Salt and freshly ground pepper
1 Peel the celeriac, parsnips and potatoes and cut into 2-inch (5-cm) chunks. Peel rutabaga and cut into slightly smaller pieces.

2 Place all vegetables in a pot of salted cold water. Bring to boil then cook gently for 20 to 25 minutes or until vegetables are very soft.

3 Drain well and return to pot. Place over turned-off burner to dry. Mash together, adding a little cream for texture. Season well with
salt and pepper.
SHARE