Bouillabaisse
Holiday 2013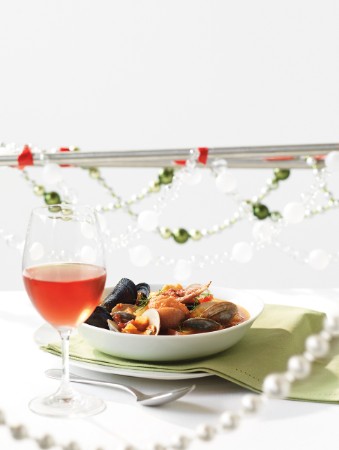 Bouillabaisse
Holiday 2013
BY: Emily Richards
The combination of seafood in this light but rich-tasting broth makes for a beautiful meal to share with friends. Vary your shellfish selections to your taste. If you aren't a fan of crab then simply make up the difference with more mussels and clams. You can do the same with any of the shellfish. Enjoy the slight heat from the rouille in each spoonful with some crusty baguette.
ROUILLE
1 cup (250 mL) fresh bread crumbs (see TIP)
½ cup (125 mL) roasted red peppers
1 clove garlic, minced
¼ tsp (1 mL) cayenne
1 tbsp (15 mL) mayonnaise
¼ cup (60 mL) extra virgin olive oil
2 tbsp (30 mL) extra virgin olive oil
2 large shallots, diced
1 small fennel bulb, trimmed and diced
6 cups (1.5 L) vegetable broth
1 can (796 mL) diced tomatoes
2 sprigs fresh thyme
2 bay leaves
¼ tsp (1 mL) saffron threads
12 oz (375 g) mini red potatoes, halved
1 lb (500 g) mussels, scrubbed and bearded
1 lb (500 g) crab legs
1 lb (500 g) small pasta clams
8 oz (250 g) monkfish, cut in chunks
1 For the rouille, combine bread crumbs, peppers, garlic, cayenne and mayonnaise in blender and buzz up until coarse. Drizzle in oil and blend until smooth; set aside.

2 Heat oil over medium heat and cook shallots and fennel, stirring often for about 10 minutes or until softened. Stir in broth, tomatoes, thyme, bay leaves and saffron; bring to the boil. Boil gently for 10 minutes.

3 Add potatoes, reduce heat and simmer for 5 minutes. Add mussels, crab legs, clams and monkfish; stir gently to combine into broth. Cover and cook for about 8 minutes or until mussels and clams are open and monkfish is firm.

4 Ladle into shallow soup bowls and dollop each with a spoonful of rouille.

TIP To make fresh bread crumbs, use one ½-inch (1-cm) slice of rustic bread and process in small food chopper or processor until it is in fine crumbs.
SHARE