Bouillabaisse
Début de l'été 2010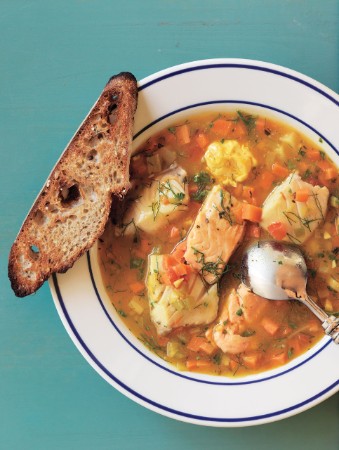 Bouillabaisse
Début de l'été 2010
BY: Julia Aitken
Transform this main-course fish soup, which hails from the southern French city of Marseilles, into an all-Canadian production by including sustainably caught or farmed Arctic char, Pacific cod, haddock, pickerel, swordfish and/or trout. Admittedly there is a lot of chopping to be done for this recipe but all the vegetables (except the garlic) can be prepped a day ahead and refrigerated. The soup can be completed the following day up to the point of adding the fish, then refrigerated for up to24 hours. The rouille can be refrigerated for up to two days. Look for canned lobster bisque in specialty grocery stores.
Rouille

½ cup (125 mL) olive oil
¼ cup (50 mL) canola oil
3 egg yolks
2 tbsp (25 mL) lemon juice
3 cloves garlic, coarsely chopped
½ tsp (2 mL) finely grated lemon zest
½ tsp (2 mL) crumbled saffron threads
¼ tsp (1 mL) cayenne
Salt to taste

Bouillabaisse

2 medium tomatoes
5 large cloves garlic
⅓ cup (75 mL) olive oil
3 large carrots, finely chopped
2 medium leeks (white parts only), finely chopped
1 bulb fennel, finely chopped (leafy tops reserved)
2 stalks celery, finely chopped
1 tbsp (15 mL) finely chopped fresh rosemary
1 tbsp (15 mL) finely chopped fresh thyme
2-inch (5-cm) strip orange rind
1 tsp (5 mL) salt
1 tsp (5 mL) freshly ground black pepper
1 tsp (5 mL) crumbled saffron threads
2 bay leaves
Pinch hot pepper flakes
1 cup (250 mL) white wine
¼ cup (50 mL) Pernod
6 cups (1.5 L) fish stock
1 can lobster bisque, 398 mL
Juice of 1 orange
2½ lbs (1.25 kg) assorted boneless fish fillets
(see note in recipe introduction)
¼ cup (50 mL) reserved finely chopped
fennel tops
¼ cup (50 mL) finely chopped parsley
1 baguette
1. For rouille, combine olive and canola oils ina glass measuring cup. In a blender (not a food processor), blend egg yolks, lemon juice, garlic, lemon zest, saffron, cayenne and salt to taste until finely minced.

2. With the motor running, gradually add oil, a drop at a time, until half of oil has been added and mixture in blender is thickened, smooth and creamy. With motor running, add remaining oil in a very thin stream until all the oil has been added and the rouille is the consistency of mayonnaise. Taste and add more cayenne and salt if necessary. Scrape into a bowl and refrigerate, tightly covered, until ready to serve.

3. For bouillabaisse, chop tomatoes finely, discarding seeds and tough cores. Mince 4 cloves garlic, reserving remaining clove.

4. In a large pot or Dutch oven, heat oil over medium heat. Add tomatoes, minced garlic, carrots, leeks, fennel, celery, rosemary, thyme, orange rind, salt, pepper, saffron, bay leaves and hot pepper flakes. Cook, stirring, for 8 to10 minutes until vegetables start to soften. Stir in wine and Pernod, bring to a boil over high heat and boil for 2 minutes. Stir in stock, lobster bisque and orange juice, and bring back to a boil. Reduce heat to medium-low and simmer, uncovered, for 15 to 20 minutes or until vegetables are tender. Remove the pot from the heat and set aside while you prepare the fish. (The soup can be made ahead up to this point, then covered and refrigerated for up to 24 hours.)

5. Cut the fish fillets into 2- x ½-inch (5- x 1-cm)pieces, removing the skin if you wish. Just before serving, bring the soup back to a full rolling boil over high heat. Stir in fish. Remove the pot from the heat and let stand, covered, for 10 to 15 minutes or until fish is opaque. Discard bay leaves and orange rind. Stir in fennel tops and parsley. Season with more salt and pepper to taste if necessary.

6. Slice baguette diagonally into ½-inch (1-cm) slices and toast on both sides. Cut reserved garlic clove in half and rub over toasted baguette slices. Ladle bouillabaisse into deep soup bowls. Garnish with rouille and serve with toasted baguette slices on the side.
SHARE