Bouillabaisse with Garlic Croutons
Holiday 2008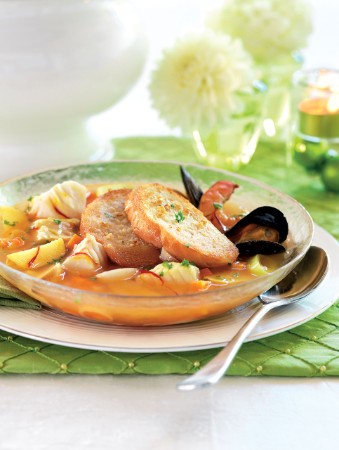 Bouillabaisse with Garlic Croutons
Holiday 2008
BY: Jennifer MacKenzie
There are many opinions on what makes the perfect bouillabaisse and they're all correct! This version is light and flavourful and can be made in stages to simplify preparations for entertaining. Be sure to use the freshest seafood you can get and adapt with other types of fish and shellfish as you desire.
Broth

1 lb (500 g) jumbo shrimp with shells
2 tbsp (25 mL) olive oil
3 stalks celery, coarsely chopped
2 carrots, coarsely chopped
1 large onion, chopped
2 cloves garlic, chopped
2 tbsp (25 mL) tomato paste
2 bay leaves
Pinch saffron threads
8 cups (2 L) water
1 cup (250 mL) dry white wine
2 tsp (10 mL) salt

Soup

3 tbsp (45 mL) olive oil
2 leeks, white and light green part only, chopped
2 carrots, diced
Salt and freshly ground pepper
9 small new potatoes, cut into thin wedges
1 clove garlic, minced
12 slices baguette
½ cup (125 mL) dry white wine
1 lb (500 g) skinless firm white fish, cut into chunks18 mussels
Juice of ½ lemon
Chopped fresh parsley or chives
1. To make broth, peel shells and tails from shrimp and devein, if necessary; set shells aside. Cover and refrigerate shrimp for soup.

2. In a large pot, heat oil over medium heat; sauté celery, carrots and onions for about 10 minutes or until onions are soft and lightly browned. Add garlic and sauté for 1 minute. Add reserved shrimp shells; cook, stirring, for about 2 minutes or until pink. Stir in tomato paste. Add bay leaves, saffron, water and wine; bring just to boil. Reduce heat and simmer for about 1 hour, or until volume is slightly reduced and flavour is fully developed. Strain through sieve, reserving broth; discard solids. Stir in salt. (Broth can be cooled, covered and refrigerated for up to 1 day or frozen for up to 1 month.)

3. To make soup, heat 1 tbsp (15 mL) of the oil over medium heat in a large pot. Add leeks, carrots, ¼ tsp (1 mL) salt and pepper to taste; sauté for about 10 minutes or until softened. Stir in potatoes and broth. Increase heat to high and bring to a boil. Reduce heat and simmer for about 15 minutes or until potatoes are tender. Keep hot.

4. About 10 minutes before serving, preheat broiler. Combine 1 tbsp (15 mL) of the remaining oil and minced garlic in a bowl. Lightly brush over both sides of each baguette slice. Place on a baking sheet and broil, turning once, or until lightly toasted. Set aside.

5. Season shrimp with salt and pepper. In a large skillet, heat remaining 1 tbsp (15 mL) oil over medium-high heat. Add shrimp, in batches, and sauté just until pink and slightly curled. Transfer to a warm dish; set aside.

6. Add 1 cup (250 mL) of the soup and wine to pan and bring to a simmer. Add fish and poach for about 5 minutes or just until firm. Use a slotted spoon to transfer fish to the dish with the shrimp. Add mussels to the pan, cover and cook, shaking pan occasionally, for 2 to 3 minutes or until mussels are opened. Discard any that do not open.

7. To serve, divide shrimp and fish evenly among warmed shallow serving bowls. Stir liquid left in skillet into the soup. Add lemon juice and season to taste with salt and pepper. Ladle soup over seafood and float croutons on top. Garnish with mussels and sprinkle with parsley.
SHARE